Act Now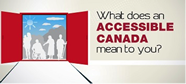 Empower U: Learn to Access Your Disability Rights Training on Canadian Human Rights, the Convention on the Rights of Persons with Disabilities (CRPD) and its Optional Protocol (OP) training aims to increase awareness of how to address discrimination using more familiar Canadian human rights laws such as Human Rights Codes and the newer international Convention on the Rights of Persons with Disabilities (CRPD). This is training for persons with disabilities by persons with disabilities. The training is part of a project funded by Employment and Social Development Canada and implemented by the Council of Canadians with Disabilities (CCD) in collaboration with Canadian Multicultural Disability Centre Inc. (CMDCI), Citizens With Disabilities – Ontario (CWDO), Manitoba League of Persons with Disabilities (MLPD) and National Educational Association of Disabled Students (NEADS). Read more.
Sign Up for our monthly digest
A monthly newsletter from CCD about what is happening in the community
Standing Committee's Report The Way Forward for Canada Post Contains Some Backward Elements
Media Release
For Immediate Release │ December 14, 2016
The Standing Committee on Government Operations and Estimates released its report The Way Forward for Canada Post, which contains 45 recommendations for maintaining a universal public service – but not an accessible service. Disappointingly, the Committee only recommended the reinstatement of door-to-door mail delivery in communities that were converted to community mailboxes after August 3, 2015. The Committee's recommendation is unfair to Canadians with disabilities living in communities converted before August 3, 2015, who will continue to face barriers and inconveniences when accessing their mail. Mail is an essential service. Some people with disabilities receive medical supplies and other critical items, such as cheques, through the mail. We are left wondering why a Government that is proposing to create accessibility legislation left the inaccessible community mailbox model in place, for some neighborhoods. The good news is that the report recommends no new neighborhoods will be getting inaccessible community mailboxes.
"While the report's stance on the community mailbox was not what we were hoping for, the report does contain some positive recommendations that we can build on," states John Rae, CCD 1st Vice Chair and Social Policy Committee Chair. "We were pleased by the Committee's recommendation that the Minister of Public Services and Procurement's review of the Canadian Postal Service Charter include a Gender-based analysis Plus," stated Carmela Hutchison, Secretary of the Council of Canadians with Disabilities and President of DAWN-RAFH Canada. Such an analysis can help ensure that services and practices are accessible to girls and women with disabilities, which is good for all Canadians.
The Committee made recommendations regarding consulting and sharing information with people with disabilities. Recommendations 17 called for Canada Post to "consult with stakeholders on placement and accessibility of the community mailboxes as well as door-to-door delivery to meet the needs of seniors and people with disabilities and reduced mobility". Recommendation 18 urged Canada Post to "communicate options available to seniors and people with disabilities and reduced mobility." "While the Council of Canadians with Disabilities is always willing to consult with service providers," stated Carlos Sosa, CCD 2nd Vice Chair, "Canada Post has not invited us to test the accessibility features of any community mailboxes." Service providers, like Canada Post, need to commit to meaningful consultation and accessible communication, which includes plain language and information in ASL/LSQ, the first language of Deaf Canadians.
"If Canada Post adopts the Committee's recommendations on making post offices 'act as community hubs and respond to the local needs of its surrounding community', then they need to involve the disability community at the very beginning of the process to ensure that such hubs are accessible and inclusive of people with disabilities," states Rae.
-30-

For more information contact:
John Rae, 1st Vice Chair, Council of Canadians with Disabilities (CCD): Tel: 416-941-1547, Email: thepenguin@rogers.com
Carlos Sosa, 2nd Vice Chair, Council of Canadians with Disabilities (CCD): Tel: 204-688-2555, Email: csosa@shaw.ca
Carmela Hutchison, Secretary, Council of Canadians with Disabilities (CCD) and President of DisAbled Women's Network of Canada - Réseau d'Action des Femmes Handicapées Canada (DAWN-RAFH Canada): Tel: 403-935-4218, Email: carmela.hutchison@gmail.com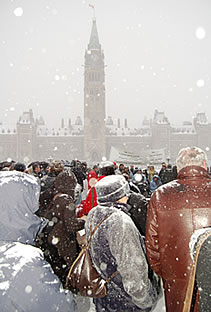 End Exclusion supporters rally in support of an accessible and inclusive Canada.