Act Now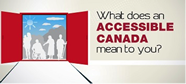 The Government of Canada is leading consultations to inform planned accessibility legislation.
In-person sessions are coming soon to your community. Now is the chance to have your say. Read more.
Sign Up for a Voice of Our Own
A quarterly newsletter from CCD.
Press Release: Disabled Canadians' Concerns about Ending Door to Door Postal Service
December 12, 2013 For Immediate Release
CCD, a national organization of persons with disabilities is concerned that Canada Post's proposal to end door to door postal services will adversely impact Canadians with disabilities. Community mailbox delivery is inadequate for those with mobility or vision impairments and will make people with disabilities more dependent upon family and friends to pick up their mail for them.
It is assumed that an individual will be able to get their mail boxes but distance, access and weather will all be factors that create greater exclusion of people with disabilities. There also appears to be an assumption that citizens are now able to do business or communicate in new ways because they have access to new technologies. But for those living in poverty, many of whom are people with disabilities, the cost of new technologies is out of reach. Between 45 and 60 percent of all those on income assistance in this country identify as having a disability. A digital divide exists between those who can afford new technologies and those who cannot and rely on old tried and true mechanisms such as door to door mail services.
If this initiative goes forward as planned some Canadians with disabilities will find they are further isolated and made more dependent on the good will of family and neighbours for basic service such as getting their mail.
-30-

For More Information Contact: Laurie Beachell, CCD National Coordinator, 204-947-0303.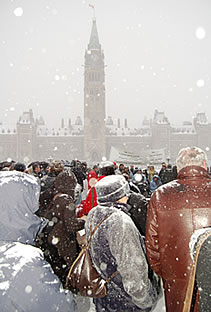 End Exclusion supporters rally in support of an accessible and inclusive Canada.