Act Now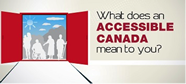 Empower U: Learn to Access Your Disability Rights Training on Canadian Human Rights, the Convention on the Rights of Persons with Disabilities (CRPD) and its Optional Protocol (OP) training aims to increase awareness of how to address discrimination using more familiar Canadian human rights laws such as Human Rights Codes and the newer international Convention on the Rights of Persons with Disabilities (CRPD). This is training for persons with disabilities by persons with disabilities. The training is part of a project funded by Employment and Social Development Canada and implemented by the Council of Canadians with Disabilities (CCD) in collaboration with Canadian Multicultural Disability Centre Inc. (CMDCI), Citizens With Disabilities – Ontario (CWDO), Manitoba League of Persons with Disabilities (MLPD) and National Educational Association of Disabled Students (NEADS). Read more.
Sign Up for our monthly digest
A monthly newsletter from CCD about what is happening in the community
System Navigator Service Project Seeks Members for Community Working Group
Council of Canadians with Disabilities is seeking up to two Indigenous Peoples of Canada with experiential knowledge of disability to participate in a Community Working Group for its System Navigator Service Project. The Community Working Group meets via Zoom on the last Monday of each month from 9 a.m. to 10:30 a.m. Pacific Standard Time. The monthly meetings will run for the duration of the project, ending in June 2022.
Through its interactions with service providers and people with disabilities, Council of Canadians with Disabilities (CCD) has learned about the difficulty people with disabilities have in making successful applications for benefits and services. It has been hypothesized that if people with disabilities had access to system navigation, then they would have better results in accessing the benefits and supports that they are entitled to receive.
CCD has received funding from Economic and Social Development Canada to develop and test a System Navigator Service. The goal of the System Navigator Project is to increase use of Federal Government programs, services, and benefits (the Canadian Pension Plan – Disability (CPP-D), Disability Tax Credit (DTC), and Registered Disability Saving Plan [RDSP]), by all eligible people with disabilities regardless of the location where they live, socio-economic status, race, national or ethnic origin, colour, religion, sex, age or mental or physical disability.
As CCD values both the expertise and time of the System Navigator Community Working Group members, an honorarium is available for participants.
If you are interested in participating in the Community Working Group, please contact Melissa Jameson, System Navigator Service Project Manager via email at melissa@ccdonline.ca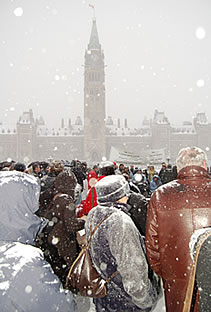 End Exclusion supporters rally in support of an accessible and inclusive Canada.