Act Now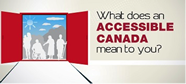 The Government of Canada is leading consultations to inform planned accessibility legislation.
In-person sessions are coming soon to your community. Now is the chance to have your say. Read more.
Sign Up for a Voice of Our Own
A quarterly newsletter from CCD.
Canada (Citizenship and Immigration) v. Colaco, 2007 FCA 282
Facts
Peter and Savita Colaco and their two children applied in 2001 to come to Canada as permanent residents under the skilled worker class. Their daughter had a mild cognitive disability but required little in terms of personal care assistance. It was agreed by the parties that her future needs would be limited to social services support and she would not have any extraordinary health care needs. The Colacos' had been providing all necessary support to their daughter from their own resources and intended to continue to do so in Canada. Included in their immigration application was a statement indicating a net worth of $280,125.00.

Decision
The Colacos argued that they should be individually assessed based on their willingness and ability to fund the necessary supports for their daughter. Citizenship and Immigration Canada attempted to distinguish this case from Hilewitz by arguing that Hilewitz applies only to prospective economic immigrants. Because the Colacos applied under the skilled-worker class, unlike business class applicants, they were not required to come to Canada with significant assets.
The Court concluded that the rationale in Hilewitz applies to skilled worker applicants as well. If a skilled worker applicant can establish that his or her admissibility in Canada cannot reasonably be expected to cause excessive demand on social services, there is no reason to exclude that applicant on that basis.
In response to the Colaco decision, Citzenship & Immigration Canada issued Operational Bulletin 063 on September 24, 2008 which states, "It is clear from the [Colaco] judgment that the Court views Hilewitz and de Jong as applying to all categories of immigrants." As a result, medical officers "must consider all evidence presented by an applicant, before making a decision of inadmissibility due to excessive demand on social services."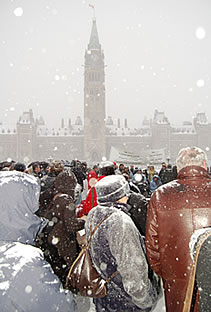 End Exclusion supporters rally in support of an accessible and inclusive Canada.