Act Now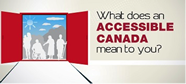 The Government of Canada is leading consultations to inform planned accessibility legislation.
In-person sessions are coming soon to your community. Now is the chance to have your say. Read more.
Sign Up for a Voice of Our Own
A quarterly newsletter from CCD.
Disabled girl's family fights order to leave (Monday, February 22, 2010)
23 February 2010
Letter to the Editor
The Globe and Mail

The Barlagne family, who are fighting an Immigration Canada order to leave Canada because they have a disabled daughter, discovered Canada's disgraceful secret. Canada shuns immigrants with disabilities. Our government rejects newcomers with disabilities who they foresee will be costly to Canada. Stephen Hawking wouldn't be approved as an immigrant, because of fears he would need care for his ALS. Immigration Canada's discriminatory practices disregard the potential of contributions by immigrants with disabilities. Canada's immigration policy conveys to the global community the message that people with disabilities are an unwelcome burden. Shame on Canada!
Sincerely,
Marie White
Chairperson
Council of Canadians with Disabilities (CCD)

(On 24 February 2010, the Globe and Mail, published the letter.)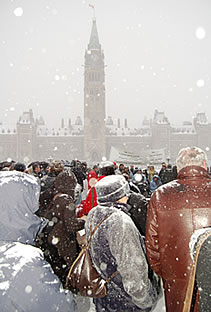 End Exclusion supporters rally in support of an accessible and inclusive Canada.