Act Now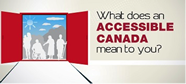 Empower U: Learn to Access Your Disability Rights Training on Canadian Human Rights, the Convention on the Rights of Persons with Disabilities (CRPD) and its Optional Protocol (OP) training aims to increase awareness of how to address discrimination using more familiar Canadian human rights laws such as Human Rights Codes and the newer international Convention on the Rights of Persons with Disabilities (CRPD). This is training for persons with disabilities by persons with disabilities. The training is part of a project funded by Employment and Social Development Canada and implemented by the Council of Canadians with Disabilities (CCD) in collaboration with Canadian Multicultural Disability Centre Inc. (CMDCI), Citizens With Disabilities – Ontario (CWDO), Manitoba League of Persons with Disabilities (MLPD) and National Educational Association of Disabled Students (NEADS). Read more.
Sign Up for a Voice of Our Own
A quarterly newsletter from CCD.
A Call to Combat Poverty and Exclusion of Canadians with Disabilities by Investing in Disability Supports
The Council of Canadians with Disabilities (CCD) and the Canadian Association for Community Living (CACL) are calling on the federal government to take principled and committed leadership in Budget 2005 to combat the poverty and exclusion of Canadians with disabilities. There is now an unprecedented consensus among the Canadian public, governments, the disability community and experts about the need for national action on disability, in particular to ensure access to needed supports.
PRIME MINISTER MARTIN
"What kind of Canada do we want?… a Canada where people with disabilities and their families… have the support they need."
Response to the Speech From the Throne, February 2004
THE CANADIAN PUBLIC:
"More than eight in ten [Canadians]… agree with the statement that persons with even the most challenging disabilities should be supported by public funds to live in the community rather than institutional settings… By a wide margin, Canadians believe governments have the primary role for supporting persons with disabilities when it comes to providing good health care, reliable transportation, specialized equipment, and good education."
From Environics, "Canadian Attitudes Towards Disability Issues: 2004
Background to the Issue
With the aging of the population, people with disabilities make up a growing proportion of the Canadian population. One third of Aboriginal Canadians are disabled. Canadians with disabilities are more than twice as likely to live in poverty than other Canadians. They face exclusion from quality education, from employment and from participation in their communities. Rates of violence and abuse against people with disabilities are among the highest for any group in Canadian society.
Current investments by governments are not making the difference needed. Recent analysis commissioned by the Federal and Provincial/Territorial Ministers Responsible for Social Services dramatically illustrates how this group of Canadians is still marked by poverty and exclusion.1
The first step in combating poverty and exclusion is to ensure people have access to the disability-related supports they need: aids and devices, personal assistance, environmental accommodations, etc. With the right supports - that are flexible and responsive as people age and make transitions to new life stages - people with disabilities learn, become employed, raise families, contribute to their communities, and to the social and economic well-being of Canada.
Adults with disabilities, when they get the supports they need, establish their independence from their parental families and often become caregivers of their own children. Access to needed supports is the central foundation for inclusion and equal participation of Canadians with disabilities.2
Yet as recent reports indicate, a significant number of children, youth, and adults with disabilities lack the supports they need because they are too costly, aren't available where they live, or because schools, workplaces, transportation systems and public spaces are not designed to include them. Drawing on Statistics Canada data, The Roeher Institute estimates that nearly two thirds of Canadian adults with disabilities - 2,154,000 people - face one or more such difficulties.
Over two million Canadians adults with disabilities, or two thirds of the disabled adult population lack one or more of the educational, workplace, aids, home modification or other supports they need.
Roeher estimates that the non-reimbursed costs to individuals of purchasing their needed disability supports is about $4.2 billion per annum.3 And many have such needs but don't have the income to purchase the required supports.
Public policy has not yet caught up with the social, economic, and demographic realities of disability in Canada nor has it provided the foundations to ensure the full inclusion of Canadians with disabilities and a quality of life equal to other Canadians.
SPEECH FROM THE THRONE OCTOBER 2004:
"The Government's actions on behalf of Canadians will be guided by [a] commitment to defend the Charter of Rights and Freedoms and to be a steadfast advocate of inclusion."
The Time for Action is Now
Recognizing the need for a new approach, the federal and provincial/territorial governments signed the In Unison Accord 4 in 1998 to advance the full citizenship, inclusion, and participation of Canadians with disabilities. It identifies access to disability supports as a critical building block to enable better income and employment status for Canadians with disabilities. As of yet, however, a National Framework to put In Unison into action has not been established.
THE STANDING COMMITTEE ON FINANCE:
"The federal government [should] meet with provincial/territorial governments and groups representing the disabled with a view to concluding a federal/provincial/territorial national disability strategy… Moreover, the government should review and implement, on an expeditious basis, the recommendations of the Technical Advisory Committee on Tax Measures for Persons with Disabilities."
From "Moving Forward: Balancing Priorities and Making Choices for the Economy of the Twenty-First Century," Report of the Standing Committee, December 2004.
Based on various consultations with other disability organizations, experts and governments, CCD and CACL have developed the following recommendations for a National Framework and Agenda.
Short-Term Strategies - 1-2 Years
In the 2005 Budget, the Federal Government should:
Commit to a Framework for Investment in Disability Supports
The framework would be based on the vision and principles of In Unison; will be developed in collaboration with provincial and territorial governments and First Nations and will: assist individuals to meet the costs of disability-related supports; support family/informal caregivers; and enable community capacity to provide supports and inclusion.
Implement recommendations to Ministers of Finance and Revenue in Disability Tax Fairness
Move quickly to implement the Report's recommendations. The cost of these recommendations was booked in previous federal budgets.
Make a 'down payment' on a transfer to enhance the supply of disability supports, and commit to a national program starting 2006
Make a down payment in Budget 2005 for a transfer to provinces and territories to enhance disability supports using the 'Multilateral Framework for Labour Market Agreements for Persons with Disabilities' as a model for wider investments in disability supports. Commit to an investment in disability supports beginning in 2006 significant enough to make a national program a reality (possibly using a re-negotiated Multi-Lateral Framework Agreement).
Commit to a 'disability dimension' in new initiatives, including Caregivers, Childcare, Cities and Communities, and the Gas Tax Rebate.
The federal government has already committed to a principle of 'universal inclusion' in its childcare strategy. Similar commitments should be made in infrastructure initiatives for cities and communities, including the Gas Tax Rebate, to enhance accessible transportation and other services.
Commit to a study of poverty and disability
As a foundation for exploring an expanded role for the federal government in addressing income needs.
Engage the disability community and provincial/territorial governments in developing the agenda
By resourcing the disability community to effectively engage, and by establishing a new high level Technical Advisory Group to advise the federal government on the Agenda.
TECHNICAL ADVISORY COMMITTEE ON TAX MEASURES FOR PERSONS WITH DISABILITIES:
"Going forward… Priority should be given to expenditure programs rather than tax measures to target new funding where the need greatest. The [Technical Advisory] Committee recognizes that the development of such programs would involve consultations with provincial and territorial governments and the disability community."
From "Disability tax Fairness," December 2004
Medium-Term - 3-5 years
Explore a further role for the federal government in addressing poverty, by meeting individual costs of disability through an expenditure program, perhaps modeled after the National Child Benefit.
Integrate the Caregiver Agenda into a Framework for Investment in Disability Supports.
Measuring Success
Governments have expressed a commitment to act. We recommend the following four targets for measuring success of this agenda over a 5-10 year period.
Reduce by half the annual income gap between Canadians with and without disabilities - This would mean increasing the average personal incomes of people with disabilities who have incomes to $26,500 from $22, 200 (in 2001 constant dollars). The average income for non-disabled Canadians is $30,800.


Reduce by half the poverty rate of adults with disabilities - This would mean reducing the prevalence rate of working age people with disabilities who are living below Statistics Canada's Low Income Cut-Off from the current 15% to 11%. The poverty rate for nondisabled Canadians is 6.6%.


Reduce by half the labour market participation gap between Canadians with and without disabilities - This would mean increasing the employment rate for people with disabilities to 61% from the current 44%. This would still be well below the employment rate for nondisabled Canadians of 78%, but would signal a major improvement.


Reduce by half the non-reimbursed costs faced by persons with disabilities.
These are reasonable targets. They are achievable. Canadians with disabilities deserve nothing less.


"A VOICE OF OUR OWN"
"CETTE VOIX QUI EST LA NOTRE"
COUNCIL OF CANADIANS WITH DISABILITIES
CONSEIL DES CANADIENS AVEC DEFICIENCES

FEDERAL/PROVINCIAL/TERRITORIAL MINISTERS OF SOCIAL SERVICES (NOVEMBER 2, 2004):
"Ministers… agreed to jointly develop a strategy for investments in disability programs, with both short and long-term options. Ministers committed to advancing issues that are important to Canadians with disabilities, including the three building blocks of In Unison - disability supports, income, and employment."
From News Release of Federal-Provincial-Territorial Meeting of Ministers Responsible for Social Services, November 2, 2004.
1 Ministers commissioned the Canadian Council on Social Development (CCSD) to prepare the study. See CCSD, "Supports and Services for Adults and Children Age 5-14 with Disabilities in Canada: An analysis of needs and gaps," Ottawa, December 2004.
2 See Cameron Crawford, "Unmet Needs for Disability Supports". Toronto: The Roeher Institute, January 2005.
3 See Cameron Crawford, "Non-Reimbursed Costs of Disability-Specific Supports: Technical Paper". Toronto: The Roeher Institute, January 2005.
4 All provincial/territorial governments signed the Accord except for Quebec, which agreed to the principles and intent of the agreement.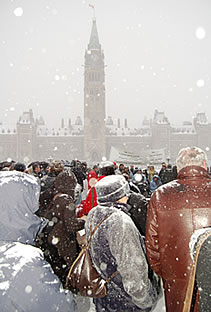 End Exclusion supporters rally in support of an accessible and inclusive Canada.