Act Now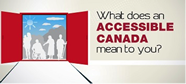 The Government of Canada is leading consultations to inform planned accessibility legislation.
In-person sessions are coming soon to your community. Now is the chance to have your say. Read more.
Sign Up for a Voice of Our Own
A quarterly newsletter from CCD.
NDP Take Page from Disability Community's Action Plan
13 April 2011
On 10 April 2011, Jack Layton launched the NDP Election Platform, Giving Your Family A Break—Practical First Steps. Early in the campaign, the Council of Canadians with Disabilities (CCD), a national human rights organization of people with disabilities working for an accessible and inclusive Canada, challenged all Federal Parties to include people with disabilities in their platforms. Both the NDP Platform and the Platform launch were inclusive. At the launch, the moderator selected Colin, a wheelchair user, to pose a question to NDP Leader Jack Layton. Colin asked about the NDP's housing plan. The NDP platform promises to "… enact the NDP's legislation to ensure secure, adequate, accessible and affordable housing for Canadians". "People with disabilities saw themselves reflected in the issues that the NDP have promised to address if they are elected to office," stated Tony Dolan. "We are caregivers. We are moms and dads. We are workers. We are veterans. We are also people with disabilities. All Government of Canada initiatives must be accessible and inclusive of Canadians with disabilities."
CCD notes that the NDP made some specific commitments to people with disabilities:
A National Action Plan to implement the Convention on the Rights of Persons with Disabilities (CRPD);
Amendment of federal bankruptcy legislation to move pensioners and long-term disability recipients to the front of the line of creditors when their employers enter court protection or declare bankruptcy;
Increased funding for the Canada Student Grants Program, targeting accessibility by students with disabilities and others.
"We were pleased by these commitments, particularly the one on the CRPD," states Marie White, CCD Past Chairperson. "It is very significant that the NDP have said that they will address 'such priorities of the disability community as disability supports, poverty alleviation, labour market participation, and access and inclusion.' They are promising to undertake measures that will improve the lives of people with disabilities in the short term. People with disabilities might get out of poverty before they turn 65 and become eligible for Old Age Security."
In 2007, the disability community launched its own National Action Plan, which over 100 groups endorsed and the Plan called for action on disability supports, poverty alleviation, labour market participation, and access and inclusion. This February, the disability community presented Canada's Federal Parties with a plan for implementing the CRPD. The NDP have responded by including these issues in their action plan for Canada—the 2011 NDP Platform.
-30-

For More Information Contact:

Laurie Beachell, CCD National Coordinator, Tel: 204-947-0303
Tony Dolan, CCD Chairperson, Tel: 902-569-2817
Marie White, CCD Past Chairperson and
Chairperson CCD Social Policy Committee, Tel: 709-739-8233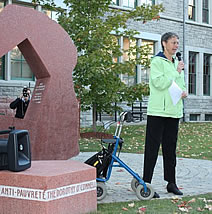 Marie White, a former Chairperson of CCD, addresses anti-poverty rally.