Act Now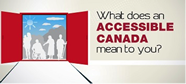 The Government of Canada is leading consultations to inform planned accessibility legislation.
In-person sessions are coming soon to your community. Now is the chance to have your say. Read more.
Sign Up for a Voice of Our Own
A quarterly newsletter from CCD.
Accessible Voting
This video provides information on accessible voting tools and services.
For more information, go to http://www.elections.ca.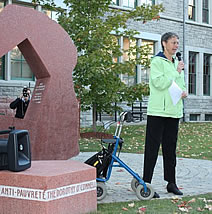 Marie White, a former Chairperson of CCD, addresses anti-poverty rally.