Act Now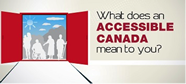 Empower U: Learn to Access Your Disability Rights Training on Canadian Human Rights, the Convention on the Rights of Persons with Disabilities (CRPD) and its Optional Protocol (OP) training aims to increase awareness of how to address discrimination using more familiar Canadian human rights laws such as Human Rights Codes and the newer international Convention on the Rights of Persons with Disabilities (CRPD). This is training for persons with disabilities by persons with disabilities. The training is part of a project funded by Employment and Social Development Canada and implemented by the Council of Canadians with Disabilities (CCD) in collaboration with Canadian Multicultural Disability Centre Inc. (CMDCI), Citizens With Disabilities – Ontario (CWDO), Manitoba League of Persons with Disabilities (MLPD) and National Educational Association of Disabled Students (NEADS). Read more.
Sign Up for our monthly digest
A monthly newsletter from CCD about what is happening in the community
Make EI Accessible and Inclusive to Canadian Women with Disabilities
31 March 2009—Today, the Council of Canadians with Disabilities (CCD) appeared before the House of Commons Standing Committee on the Status of Women and called upon the Federal Government to make EI more accessible and inclusive to women with disabilities by expanding eligibility criteria and expanding its coverage.
"The Federal Government needs to apply a gender and disability lens to Canada's EI regime," states Marie White, Chairperson of the Council of Canadians with Disabilities, a national human rights organization working for an inclusive and accessible Canada. "It is a national disgrace that EI excludes some of Canada's more vulnerable people—older workers, part-time workers, recent immigrants, new entrants to the labour market, low wage workers, women with disabilities and the self-employed." Their employment patterns make it harder for them to accumulate enough hours to qualify for EI. CCD called for a reduction in the number of hours a worker needs to accumulate in order to qualify for EI.
Chronic illness is a fact of life for many Canadian women. In 2003, 74% of the female population 15 and older had at least one chronic illness. This makes the EI Sickness Benefit very important to Canadian women with disabilities and chronic illnesses. Unfortunately, the current EI sickness benefit only provides 15 weeks of coverage. CCD has been calling upon the Federal Government to lengthen the coverage period to 52 weeks.
Reform of the EI Sickness Benefit is a key component of the Canadian disability community's national disability strategy to reduce the level of poverty faced by Canadians with disability. Canadians with disabilities are almost twice as likely as nondisabled Canadians to live in poverty.
Over one hundred Canadian organizations have signed the End Exclusion National Action Plan on Disability, which includes the recommendation to expand the EI Sickness Benefit to 52 weeks of coverage. By acting on this recommendation, the Federal Government could make an important contribution to the economic independence of women with disabilities in Canada. "Providing support to vulnerable persons should be the Government of Canada's first priority during this economic downturn," says White.
-30-
For more information contact:
Laurie Beachell, CCD National Coordinator: Cell: 204-981-6179
926-294 PORTAGE AVENUE • WINNIPEG, MANITOBA • R3C 0B9
TEL/TÉL: 204-947-0303 • TOLL FREE/SANS FRAIS: 1-877-947-0303 • FAX/TÉLÉ: 204-942-4625 • TTY: 204-943-4757
EMAIL/CE: ccd@ccdonline.ca • WEBSITE: www.ccdonline.ca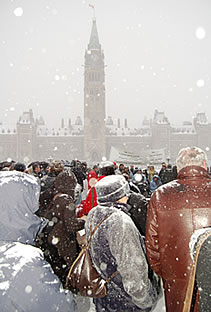 End Exclusion supporters rally in support of an accessible and inclusive Canada.