Act Now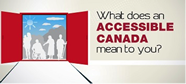 Empower U: Learn to Access Your Disability Rights Training on Canadian Human Rights, the Convention on the Rights of Persons with Disabilities (CRPD) and its Optional Protocol (OP) training aims to increase awareness of how to address discrimination using more familiar Canadian human rights laws such as Human Rights Codes and the newer international Convention on the Rights of Persons with Disabilities (CRPD). This is training for persons with disabilities by persons with disabilities. The training is part of a project funded by Employment and Social Development Canada and implemented by the Council of Canadians with Disabilities (CCD) in collaboration with Canadian Multicultural Disability Centre Inc. (CMDCI), Citizens With Disabilities – Ontario (CWDO), Manitoba League of Persons with Disabilities (MLPD) and National Educational Association of Disabled Students (NEADS). Read more.
Sign Up for our monthly digest
A monthly newsletter from CCD about what is happening in the community
People with Disabilities: Getting Beyond Being the Population in Waiting
Key Messages and Commentary
CCD Presentation to House of Commons HUMA Committee
28 February 2013
Table of Contents
Executive Summary
Introduction
People with Disabilities: The Population in Waiting
10 Key Messages on Employment and Persons with Disabilities
Conclusion
Appendix 1 – Demographics
The Council of Canadians with Disabilities (CCD) calls upon the Federal Government of Canada to establish a five year strategic plan for improving the representation of people with disabilities in the Canadian paid labour force and that people with disabilities be integrally involved in the development of this plan.
CCD recommends that Canada ensure both mainstream employment measures are accessible to and inclusive of people with disabilities and that there be robust investment in measures that specifically address the unique needs of persons with disabilities. This would include investment in youth with disabilities making the transition from school to work; a range of initiatives, including long-term support, for people facing multiple barriers; increased investment in the Labour Market Agreements for Persons with Disabilities and the Opportunities Fund; and affirmative action measures. These measures need to include flexible accommodation and support funding.
CCD calls for more research, including research done in partnership with organizations of persons with disabilities, to address knowledge gaps concerning employment and people with disabilities. CCD identifies the need for research on the changing nature of work and whether new barriers are being created for people with disabilities, as well as why the participation rate of persons with disabilities in social assistance programs is increasing.
In order to accurately measure the degree of success in each initiative/investment, indicators must be relative to those with more complex needs who experience multiple barriers.
CCD calls upon the Federal Government to be a model employer of persons with disabilities, both in its hiring practices and in its accommodation of disability.
The government of Canada has a clear labour force agenda and one in which persons with disabilities can participate. We are a population in waiting – waiting for government to implement strategies and approaches which support people with disabilities to exercise their skills and expertise. Such action by the Government of Canada would demonstrate that they both recognize and value the place of people with disabilities in this country.
The Council of Canadians with Disabilities (CCD) is a national organization of women and men with disabilities working for an accessible and inclusive Canada.
CCD's motto is "a voice of our own", which means that CCD is a mechanism through which people with disabilities can speak to Canada's decision makers. In this presentation, CCD is sharing personal reflections by people with disabilities to aid Members of Parliament in their deliberations on how to assist Canadians with disabilities become gainfully employed. In addition, CCD provides policy recommendations to address the concerns identified in the personal reflections.
I am going to share my opinions and perspectives on living with disability in Canada in part by telling my own story – which as I am fond of saying would make a good Hallmark Movie of the week – given it has the many and diverse elements needed including pathos, drama, uncertainty, the triumph of a spirit and ultimately success.
I am a consultant Manager with Goss Gilroy Incorporated (GGI) and I have just finished eight years as the Chairperson of the Council of Canadians with Disabilities – whose main goal is to promote equality for persons with disabilities in all aspects of Canadian society, but this is not where I would have imagined myself 20 some years ago in 1987 when I was 27. My professional training at that time was as an Elementary and Junior High School teacher and I had been working for about six years, when I was struck by a very rare and devastating viral illness which for lack of a better description peeled off my nerves and rendered me paralyzed within four months.
It is important to note the very first lesson I learned as I descended into an unknown world – disability does not discriminate. Disability happens – to anyone at any time – at birth or through illness and injury – regardless of economic status, background, health, religion, sexual orientation, and culture. In that regard, there is no such group as "those people" with disabilities as at any time any one of you or your families, or friends, or colleagues and their children could be "those people."
In July of 1987 – 10 days after I was married – I entered hospital and I came out seven weeks later – and did not walk again for 10 years. In between, I took a trip to the Mayo Clinic to see the specialist who had studied to that point about 60 cases of my disease in North America and his words were interesting – you need to begin to re-enter life.
The thought was overwhelming – as while I remained an independent thinker, I was completely dependent on others – my family and friends. My world – house, car, city, province - was relatively physically inaccessible and as a result of the less than positive perspectives and attitudes of those I thought were in positions of authority to help me – the world looked relatively abysmal. This is not unlike the world of many today – parents who are trying their best to raise their children with disabilities, individuals who grow up with disabilities, and/or who acquire disabilities and are trying to maneuver their way in a world of complex and often uncoordinated intimidating systems led by people who just do not see the realities of disability but are guided by policies which are not responsive to their needs.
In 1988 I had respiratory arrest and ended up in Intensive Care for four months. As was the case early in my disability – I was surrounded by the "cloud of negativity" and heard over and over the litany of – you will never breathe on your own again, never walk, never work, never have children. However, in each cloud, I met one or two rays of hope who were willing to support me on my road to independent living and success.
When I acquired my illness and disability, I exhausted my savings and became poor – and this is another reality of many who acquire disabilities, and many who grow up with disabilities and who do not have equitable access to education, do not have the support necessary to attend post-secondary institutions, cannot participate in the labour market. For many families who have children with disabilities – their reality can be specialists, meetings, constantly advocating for supports, managing systems to get the supports needed for their child, bills and financial drain.
One of the priority areas for CCD and indeed for disability organizations across this country is addressing the abject state of poverty in which so many people with disabilities live. Can you imagine living on less than less than $8000 a year – the low-end social assistance rate in our country today?
Can you imagine choosing to be poor because your supports are tied to income assistance and if you strive to rise out of poverty, you cannot afford your disability supports?
When I went home in early 1990, I had 24 hour care as my husband was in medical school and I was not going to ask my mother who was aging to come in and provide daily support. And yet all too often this is the expectation placed on family members.
My insurance ran out in two months and then what? I could perform no tasks on my own and I had sleep apnea over that period and sometimes would stop breathing 30 – 40 times a night so the 24 hours support was critical.
How about the call from the provincial Deputy Minister whose words were – "You are too expensive to be kept at home and so you have to return to an institution."
You know what my first reaction was – to cry. Followed by a call to my lawyer who felt I should listen to them….followed by a call to a new lawyer who was willing to listen to me and a call to my doctors who would not support this direction, because it was a death sentence for me to enter an institution due to my compromised immune system.
Picture an 85 pound, immobile woman, with a trach, making the rounds to provincial politicians. I was blessed to have my education and be an excellent communicator even then – and I was not going away. There are many people with disabilities whose life circumstances do not enable this confidence and ability – and who have been so marginalized and excluded – they do not have the energy to do what I did. And to be honest – they should not have to.
I sat at one table with a group of Ministers – and when I heard – the best thing your husband could do is divorce you so he does not lose all his money – I backed away from the table and said – none of you care about me, we are leaving.
After weeks of battling I was successful in receiving the support I needed and I needed it for two years. The treatment I received from insensitive bureaucrats and politicians has motivated me throughout the years to speak about my experiences as an example of what can happen when people are provided proper support and not simply dismissed due to disability.
I lived on Social Assistance for about one and a half years. It was quite disheartening but made better by those working at the provincial health and social services systems who worked to understand my perspective. Disability robbed me of my mobility – but not my skills. Yet I quickly learned another life lesson – that for too many disability defines you.
When it was determined I was not going to be institutionalized – well, then the question was – what was I to do or from the perspective of those paying the bills, what were they going to do with me to lessen their costs. You see I cost government quite a bit of money over two years but you know what – I do not apologize for that. I was a productive contributing citizen prior to acquiring my disability and have been for many years since.
So what was I - the teacher - to do from my wheelchair and with limited mobility and agility?
If I were to leave it up to some of the government folk running programs for people like me, I would have been in upgrading and /or taking cooking classes. Not exactly appropriate for a straight A, top of the class scholarship graduate and teacher extraordinaire, do you think?
Please remember that having options is not the same as having choice, if the options are not the least bit appropriate to you, your life or your goals and objectives.
After four years of an arduous recovery, I re-entered life in late 1991. I was struck by the thought that the type and extent of my disability was going to prevent me from going back to teaching and so perhaps I was doomed to do nothing for the rest of my life as I had no other training - what else could I do.
Talk about self-deprecation – this might have been my most valuable lesson - we all too frequently are drawn into the trap of pigeonholing ourselves based on a degree, diploma, occupation or a lifestyle – and yet we have so much to offer if we look at our combination of skills and figure out how these can be applied.
I quickly learned that my education/ability were valuable to the community and so I fell into the world of volunteering. Those involved in the disability community were the experts - although after all these years, I qualify - but I had the needed ability to write, speak and strategize – skills needed to capitalize on the community's knowledge and work it to our collective advantage.
Of note, it is interesting that in my time of greatest need, while fighting government bureaucracy, my assistance came from the disability community – to some degree I owe them the rebirth of my new life. They assisted me during my darkest moments. They did not define me by my disability but instead saw who I had been, who I was and what I could become.
My diverse volunteer work in the community gave me the confidence to pursue different career paths than I had originally intended. I sat on health boards, economic development boards, community boards – it was a busy time. My teaching experience, strength in the use of the English language, outgoing personality, gift of gab, led me to developing workshops, training packages and facilitation.
On re-entering the world of work – and initially employed by organizations for people with disabilities, I realized that unlike my four bleak years of recovery, that many people with disabilities struggle interminably and in some cases lose a life's worth of potential - because of the lack of disability-related supports they need to become full and participating citizens. You see even now, after all these years and having been very successful, I rely on three significant disability supports – my cane, my walker and my wheelchair which I often fall into at the end of my very long days.
Let's go back for a minute to my foray into the world of work as a person with a disability - what would you have offered me if you had seen this woman in a chair - would you have seen an asset, an opportunity or would you have determined my limitations because of who and what you saw?
Would you have questioned my abilities and capacities because you saw a disability? Would you have directed me to the program for "those people" or would you have seen me as one who could contribute and form a vital member of the public service?
So where did I go – well my skills and abilities were channeled into work as an independent consultant – from my wheelchair and with limited mobility. From there I became councillor with the City of St. John's. Okay, so this was definitely a strange twist in my life as I confess I was completely a-political before disability. But it was the words of another community person who said I would be a good role model for young children with disabilities – to see that nothing was beyond their dreams that led me to try and much to my surprise, I was elected.
It was an amazing time for me as I quickly learned the inner workings of a political sanctum and I suspect we collectively could share stories. However, as I learned, so did those around me – both at the political and public servant level. The following term I ran unopposed for the position of Deputy Mayor. During my time as a municipal politician I was provided numerous opportunities to influence the physical environment and public policies in relation to disability. I was a rolling representation of what could be.
In 2001, I left politics as the only position left for me was Mayor and as my two children were in K and grade one, I chose to be more available to them during their early years – instead of spending endless evenings at openings, events, lunches and so on – you know the drill.
I once more entered the consulting business and two years ago joined GGI as a Consultant Manager working from the St. John's office.
So – why did they hire this woman with a disability – who required accessible office space, sometimes has to work at home, does not go to the office if it is too slippery or icy. I can assure you it is not due to charity or a policy which says they have to. No one in my world says "Marie White" and "that poor disabled woman" in the same sentence. More likely they will say – amazing skill, wealth of knowledge, well known and respected across the community, government and private sector.
They would tell you about the woman with a disability who travels extensively – for work and for pleasure. The woman who turned 50 last year and went to Romania to celebrate – just because. And there again, a story was told. As I was an anomaly in that country – a person with a disability using a walker, as I do when I travel. I love to walk – having been an avid sports enthusiast prior to my disability and walk two miles every day and travelling – well it can be five or six miles a day.
Bucharest was a city still reeling from years of oppression – and I would guess people with disabilities are shut in their homes or institutions. Having been this close to being institutionalized, I can assure you that I do not equate it with anyone's home. Does living in one room – sharing a room – for life describe home for you? Do not assume it is right for people with disabilities – indeed it is not.
Why have I told you my story – perhaps to paint a picture for you of the realities that were and those that still remain?
There are many people with disabilities who continue to be relegated to a different place in society - one which impacts their progress, their opportunities, their education and thus their employment. Some of us still face the role assignment – for persons with disabilities, even today, it is too often still about "the programs for you". Some of us still battle historical notions of where people fit - but the truth is everyone fits somewhere.
People with disabilities are what I like to call the "population in waiting" – waiting to be seen as an integral component of the fabric of our country
There have been improvements across systems for many people with disabilities – with the institution of provincial poverty reduction plans, with some tax measures, with more attention to physical access, with the implementation of the Mental Health Commission, with the implementation of the Registered Disability Savings Plan, with improvements to CPPD access – with increased focus on many and varied disabilities but much remains to be done.
There is no doubt that the progressive changes that we have seen over the past forty years have come about because people with disability have spoken out and called for improvements. The disability community has been the catalyst for change.
With the implementation of the Convention on the Rights of Persons with Disabilities (CRPD), we believe we are entering a new era where the focus, attention and action is on promoting, protecting and ensuring the full and equal enjoyment of all human rights and fundamental freedoms by all persons with disabilities, and promoting respect for their inherent dignity. CRPD is our new expectation.
We know things cannot change all at once. The CRPD talks about progressive realization and we are well aware that our rights will not be realized all at once. But equally true is our belief that we must move to this realization faster than we have over the past 50 years – relentless incrementalism just won't cut it any more.
The CRPD ensures a disability focus beyond traditional departments and so all must have a disability lens. Beyond the inter-departmental focus, let me be very clear - disability is absolutely non-partisan. It transcends the lines we define as political; the platforms which define each party from each other. It is our collective responsibility to make social, economic, cultural, and political citizenship accessible and inclusive of all citizens of our country.
You have a leadership role to play – regardless of your title, regardless of your job, regardless of your political stripe and ambition – you can make a significant contribution to enabling an accessible and inclusive country.
In closing I simply want to remind you that everyone in this country who is born with a disability, those currently living with disabilities and those who will acquire disabilities in the future - will not necessarily become a well-known articulate feisty and now aging leader but by God everyone of them deserves the opportunity to participate and be the best they can be.
As Marie Ryan explained in the first chapter, Canadians have been waiting for many years for equitable access to the labour market. CCD's Social Policy Committee has developed the following messages on employment to point out where change needs to occur, if Canadians with disabilities are to have the opportunity to become members of the Canadian paid labour force.
The Government of Canada must develop a 5 year Strategic Plan to address the employment needs of persons with disabilities. Minister Finley should create a small Technical Advisory Committee to provide community input into the development of a Strategic Plan.
First priority for new investments should be given to youth (18-30) in transition – moving from school to work.
A range of initiatives and supports must be provided which include longer term supports for those with more complex needs (e.g. multiple disabilities, greater experience of discrimination, Aboriginal people, and women). Current accountability regimes penalize those with complex needs.
Research must be undertaken on the changed nature of work and whether new barriers are being created for persons with disabilities. Indicators for measuring success must take into account those with more complex needs and experiencing multiple barriers.
The Labour Market Agreements for Persons with Disabilities and the Opportunities Fund must be maintained and expanded until designated resources and targets for the employment of persons with disabilities are established within Labour Market Agreements with the provinces and territories. Performance indicators must be established within LMA reporting mechanisms to highlight the employment initiatives regarding persons with disabilities.
Current barriers to employment have been well documented over the years and HRSDC should create a user-friendly report highlighting current barriers and where possible best practices to address these barriers.
From 2005 – 2010 there has been a 38% increase in the participation rate of persons with disabilities in social assistance programs. Research should be undertaken to determine why this is occurring.
Appropriate accommodation is critical to success, but beyond accommodation people with disabilities require affirmative action programs that create incentives to work. Current Employment Equity initiatives have not improved labour force participation for persons with disabilities.
Government must lead by example and be a model employer.
Initiatives to address the employment of persons with disabilities must be more "career-oriented."

CCD Commentary on the Key Messages
Five Year Strategic Plan (Message 1)
CCD finds shortcomings in how employment policy is developed and in the employment programming that is made available to people with disabilities: policy making occurs in silos; there is a lack of coordination between federal and provincial benefit and service programs; there is a lack of client-centred programming; services are fragmented and there is a lack of rapid intervention to prevent labour market detachment.
To address these concerns, CCD recommends the development of a five year strategic plan. To be effective, the plan must transcend our traditional fragmented, reactive approach to disability. It must involve comprehensive short and long range plans and decisive action to create a national environment in which people with disabilities can become employed in representative numbers. Organizations of people with disabilities have been engaged in the delivery of employment programming to people with disabilities since the 1970s, and this expertise is critical to the development of a successful plan. Thus, CCD recommends that Minister Finley establish a small Technical Advisory Committee of representatives from the self-representational organizations of people with disabilities.

Robust Investment in a Twin-track Approach to the Employment of People with Disabilities (Messages 2, 3, 5, 8, 10)
CCD advocates a twin track approach for addressing the employment concerns of people with disabilities. Mainstream employment programs must be accessible to and inclusive of persons with disabilities. In addition to mainstream programs, there must be a second stream of programs to meet the unique needs of people with disabilities. In messages 2, 3, 5 8, and 10, we have indicated some first steps for reform.
Make Youth (18-30) with Disabilities in Transition from School to Work a Priority for Investment (Message 2)
Investment in youth with disabilities in transition from school to work is critical to ensure that young people with disabilities do not become permanently detached from the labour market. In particular attention needs to be focused on young women with disabilities, First Nations/Aboriginal youth with disabilities, and youth with intellectual disabilities, as they face additional barriers in the labour market.
In the following article, Yvonne Peters, a lawyer, describes how investment in training on the job assisted her make the transition to employment.
---
Training-on-the-Job Program Opened the Door to My Amazing and Interesting Career
By Yvonne Peters
Throughout high school, I was encouraged to pursue a university education. I never questioned this idea, and in fact, had big dreams of a professional career following my education. When that day came (in the mid 70s), I got a big surprise. The world of work was rampant with stereotypes, misperceptions and outright negative attitudes about the potential of a blind employee.
This was an important awakening for me. I always believed that as an individual, I could dispel any misunderstandings about blindness and prove that I was competent and capable. However, I was completely unprepared for the overwhelming and entrenched beliefs held by employers about blind people.
Those employers that I did manage to speak to didn't ask me about my qualifications or education. Instead they worried about how I would find my way to the washroom, who would want to have lunch with me and would I be safe! They told me about their elderly relatives and how hard life was for them when they lost their sight. I was advised to go to the CNIB where they knew how to help blind people. These last words set off a fierce resistance and rage in me and perhaps were the flames that ignited my political awareness of disability rights.
By some good fortune I heard about a telephone counselling position with the Saskatoon Community Aid Resource Centre. I presented myself to the director who turned out to be an American draft dodger with some pretty progressive political views about community development. He was interested in my background, but maybe even more interested in the fact that I might qualify for some training-on-the-job funding, which could save his little organization some money.
And so I was hired and placed on a training-on-the-job program jointly funded by my employer and the Saskatchewan government. This opportunity turned out to be the ticket I needed to join the work world and begin my career journey. I learned daily work skills, how to get along with colleagues and how to design strategies to overcome workplace barriers. But probably the greatest asset I gained was learning to work with many community groups, all working to make this world a better place. It gave rise to my social consciousness, taught me about the levels of inequality, and started me down a career path of social work and human rights law.
Thanks to many people who believed in me, I have enjoyed an amazing and interesting career. But my deepest gratitude goes to Bruce McKee who, motivated by a strong sense of justice and perhaps some training-on-the-job dollars, gave me the chance to show that I was capable of earning my own keep and contributing to society.
---
Long-term Supports Needed (Message 3)
People with disabilities facing multiple barriers are not being well served by current employment policy and services. Organizations that provide employment services to people with disabilities exist in a competitive funding environment and are under constant pressure to show results in terms of numbers of people successfully served. This leads to "creaming" where people with disabilities needing intensive and long term interventions to become job ready are the least likely to be selected as program participants.
Employment programming needs to be specifically created to meet the needs of people with complex needs - people with multiple disabilities, and/or people with disabilities facing multiple forms of discrimination (women, newcomers, LGBT, Aboriginal/First Nations). The service delivery organizations of people with disabilities are well-equipped to provide long-term employment supports to people with disabilities facing multiple barriers, because they do not pigeonhole people with disabilities, instead they work on the goals set by the individual.
EI Sickness Benefits
Chronic illness is a fact of life for many Canadian women. Unfortunately, the current EI sickness benefit only provides 15 weeks of coverage. CCD has been calling upon the Federal Government to lengthen the coverage period to 52 weeks.
Reform of the EI Sickness Benefit is a key component of the Canadian disability community's national disability strategy to reduce the level of poverty faced by Canadians with disability. Canadians with disabilities are almost twice as likely as nondisabled Canadians to live in poverty. Over one hundred Canadian organizations have signed the End Exclusion National Action Plan on Disability, which includes the recommendation to expand the EI Sickness Benefit to 52 weeks of coverage. By acting on this recommendation, the Federal Government could make an important contribution to the economic independence of women with disabilities in Canada. Providing support to vulnerable persons should be the Government of Canada's first priority during this ongoing economic downturn.
Strengthen Labour Market Agreements for Persons with Disabilities (LMAPD) and the Opportunities Fund and Improve how Labour Market Agreements Respond to People with Disabilities (Message 5)
In the long-term, CCD is seeking the establishment of specific targets for Canadians with disabilities in the Labour Market Agreements negotiated with the provinces. Specific targets are necessary to ensure accountability.
In the short-term, CCD is seeking increased investment in the Labour Market Agreements for Persons with Disabilities and the Opportunities Fund. CCD would like to see Canada match the active labor market program spending for persons with disabilities that occurs in countries like Denmark and Switzerland, where the employment rate of persons with disabilities has been higher than in Canada.
Accommodation and Affirmative Action Needed (Message 8)
In her chapter, Marie Ryan provided her personal reflections on the need for accommodation and flexibility. For example, Ms. Ryan described how she has been accommodated by employers who allow her to work at home when she needs that option. The option to work from home is a critical accommodation for people with chronic illness and episodic disabilities. The need for greater flexibility has been identified by a number of groups in the disability community.
In its paper, "Policy Brief Re: Study on Economic Security on Women with Disabilities", DAWN Canada has called for reform which would permit more workers with disabilities to reap the benefits of flexible working arrangements (i.e. hours, work from home, etc.). The Canadian Working Group on HIV and Rehabilitation has called for the accommodation of people with episodic disabilities in the workplace and in benefit programs.
In this presentation, CCD focuses on one approach to affirmative action which at one time was very beneficial to people with disabilities. When the Vocational Rehabilitation of Disabled Persons (VRDP) program was recalibrated as the Employment Assistance for People with Disabilities and then as the Labour Market Agreements for Persons with Disabilities, the affirmative action features of VRDP were often lost. VRDP provided comprehensive support to people with disabilities as they pursued their education and training. In a recent interview, Jim Derksen, the former Executive Director of the Disabilities Issues Office (Government of Manitoba), made the following comments about the value of the approach taken by VRDP:
"Interviewer: Was VRDP a factor in your education? Jim: It was for me. If I had not had VRDP support, I probably would not have gone to university because my family was very low income. My father, a disabled person himself, was hospitalized for more than half of a twenty year period. My family was for quite some time on welfare because there was no breadwinner. Neither I nor my family would have been able to support me to go to university. VRDP provided funds for a living allowance, tuition and books, and transportation. VRDP made all the difference between having a post-secondary education or not. It was very important to have a dedicated resource for people who have extra costs of disability when receiving their education."
The type of support described by Derksen meant that people with disabilities did not have to begin their careers with a heavy debt load.
Career-oriented Initiatives (Message 10)
As Marie Ryan eloquently explained in her chapter, people with disabilities must not be streamed into low level jobs based upon stereotypical attitudes about their abilities. The Canadian Association of the Deaf has stated, "We advocate a firm partnership between the government and Deaf organizations to work together to help Deaf Canadians become more employable and to move more of them into professional and executive positions."
Address Knowledge Gaps (Messages 4, 6, 7)
It would be positive and strategic if the Government of Canada took a twin-track approach to addressing the knowledge gaps in this issue area. Firstly, the HRSDC should undertake its own research. Secondly, the Federal Government should invest in community/academic research partnerships. During the National Strategy for the Integration of Persons with Disabilities in the Nineties, the Social Sciences and Humanities Research Council had a small funding program for research on the economic integration of persons with disabilities. It would be timely for the Government of Canada to develop another targeted research funding stream focussed on the employment of people with disabilities.
CCD has identified some first steps for research: the changing nature of work and identification of new barriers, best practices for overcoming barriers, the welfarization of disability, the development of success indicators for those who have complex needs and experience multiple barriers, and data collection on labour market participation by disability groups, age and gender.
Federal Government Should Be a Model Employer (Message 9)
As one of Canada's largest employers, the Government of Canada must demonstrate leadership on the employment of people with disabilities by becoming a model employer both in its hiring practices and its accommodation of disability. Persons with disabilities should be represented at all levels within the public sector, as they have the requisite skills and abilities to successfully take on a range of positions.
CCD's member group, the Alliance for Equality of Blind Canadians has recommended that the Federal Government make "the federal public service the model employer we want it to be. In the last year or so there was a new commitment to hiring visible minorities in the federal public service. The AEBC supports this kind of initiative, and believes a similar, dedicated energetic strategy needs to be put in place to increase the representation of persons with disabilities."
To increase awareness about best practices the Government of Canada could host a national summit focusing on best practices.
The government of Canada has a clear labour force agenda and one in which persons with disabilities can participate. We are a population in waiting – waiting for government to implement strategies and approaches which support people with disabilities to exercise their skills and expertise. Such action by the Government of Canada would demonstrate that they both recognize and value the place of people with disabilities in this country – after all, there is no "THOSE PEOPLE". We are you.
Did You Know …2
Disability and Gender


Among working-age Canadians without disabilities, half are women (50.3%) whereas this is the case for slightly more than half of working-age Canadians with disabilities (53.2%).
Education, Employment and Social Assistance - Women tend to assume responsibility for childrearing and elder care and are more likely to be lone parents and to have fewer opportunities for stable, high-paid employment. It is therefore reasonable to anticipate that women with disabilities would be more likely than men to live in low-income households. The data reveals that women with disabilities are indeed slightly more likely than their male counterparts to live below the low-income cut-off (21.3% vs. 19.6%, respectively).
That said, among working-age women with disabilities who live in low income households, nearly four in ten (38.6%) have not received a high school graduation certificate and only one in four (24.2%) are working at a job or business. Among women without disabilities, only 17.5% haven't received a high school graduation certificate and most (70.7%) are employed.
Among working-age women with disabilities who live in low income households, half (49.5%) received social assistance in the past 12 months compared with fewer than one in ten (8.6%) whose household income was above the LICO.
Secondary and Post-Secondary Education among People with Disabilities
Working-age people with disabilities are more likely to have no formal educational certification – not even a high school diploma – than those without disabilities (27.4% and 18.3%, respectively) and are also less likely to have a university degree or certificate (13.2% vs. 20.7%).
Disability, Low-Income Status and Highest Level of Educational Certification
In general, regardless of the level of education obtained, people with disabilities are still about twice as likely to live on low incomes as people without disabilities.
For example, 28.7% of people with disabilities who don't have a high school graduation certificate are in low income households, compared with 14.2% of their counterparts without disabilities. The two to one spread in low income rates between people with vs. without disabilities is similar for people with a high school graduation certificate (20.2% vs. 11.1%), trades certificate or diploma (17.8% vs. 9.2%) and a college certificate or diploma (17.0% vs. 8.3%).

However, the spread decreases where people with disabilities earn a degree, diploma or other certificate from a university. Here, 12.4% of people with disabilities and 8.2% without live on low incomes, a spread of 1.5 times instead of twice the rate of poverty.
Educational Experiences and Disability
Working-age people living below the LICO who acquired their disabilities before completing their formal education are more likely than their counterparts living above the LICO to report difficulties with their education.
These difficulties include starting school later than their same-aged peers (18.1% vs. 8.3%), changing schools because of disability (23.3% vs. 15.6%) and changing their course of study due to disability (24.7% vs. 17.2%).
This group is more likely than their counterparts living above the LICO to have experienced various forms of separation or segregation in the education system. For instance, they are more likely to have attended special schools or special classes in regular schools (25.8% vs. 17.9%), to have undergone home schooling (14.8% vs. 10.5%) and to have left their community to attend school because of disability (16.3% vs. 8.6%).
Members of this group are also more likely than their counterparts living above the LICO to report that they have had extra educational expenses because of disability (14.4% compared to 10.5%). As well, they are more likely to have experienced interruptions in their education (36.5% vs. 19.8%) and to have taken fewer courses than they would have if they didn't have a disability (39.3% vs. 22.4%). These factors contribute to this group's greater likelihood of reporting that they feel it has taken longer for them to achieve their present level of education (44.3% below vs. 24.5% of those living above the LICO).
Despite the increased likelihood of experiencing difficulty in obtaining an education, those who had disabilities prior to completing their formal education are more likely to return to school for re-training if they live below the LICO (31.9%) than if they live above it (21.6%).
Work-Related Training
For people with disabilities, living on a low income is associated with their lack of access to work-related training.
For instance, among people with disabilities who were active in the labor force at some point from 2001 through 2006, only 10% who received classroom-based or on-the-job work-related training report low incomes, compared with 19.6 % of their counterparts with disabilities who didn't receive such training.
Labour Force Status
According to Statistics Canada people with disabilities are persistently less likely to be employed than people without disabilities; in 2006 51.3% of working-age people with disabilities were employed compared to 75.1% of people without disabilities. However, only half with disabilities who are outside of the labour force indicate that they are completely prevented from working due to their disability and many who feel completely prevented face social and economic barriers to employment aside from disability itself.
The low employment level of people with disabilities helps to account for the greater prevalence of poverty they experience. Yet even those with disabilities who are employed are more likely to have a low income than those without disabilities (11% vs. 7.3%). Furthermore, among people with disabilities who are not working, the rate of low income is 1.5 times higher than for their counterparts who do not have disabilities.
According to PALS 33.4% of people with disabilities on low incomes had not worked within the 12 months before PALS was conducted and either worked before 2005 or had never worked. In comparison, this was the case for 23.7% of people without disabilities living in low-income households.
People with disabilities on low incomes were almost twice as likely to work part-time for most of the year (40 to 48 weeks) compared to those without disabilities on low incomes (27% and 14.9%, respectively).
Type of Workplace

The low-income rate for employed people with disabilities is low for the 32.4% who work for an employer operating at more than one location with more than 500 workers and the 32.1% who are unionized or are otherwise covered by a collective agreement.
These conditions appear ideal for increasing the likelihood of living above the LICO: for workers with disabilities whose workplaces meet these conditions the low-income rate is only 3.8%. However, these conditions only apply to only about one in five (18.4%) of employed people with disabilities.
Discriminatory Employment Practices
PALS asked respondents who had been active in the labour force at some point from 2001 through 2006 whether they had experienced employment discrimination because of disability in those years. Discrimination included any of being refused a job interview, a job or promotion, being given less responsibility than co-workers, being denied workplace accommodation or employment benefits, being paid less that other workers in comparable jobs and being exposed to other types of employment discrimination.
Those who reported experiencing such discrimination are about twice as likely to live on low incomes as those who have not had such an experience – 22.4% vs. 12.7%
Notes
1. Marie Ryan (then known as Marie White) presented the information contained in this chapter during a speech she presented on 23 March 2011 at the Government Conference on the Rights of Persons with Disabilities, which took place in Victoria Hall, 111 Sussex Drive (Old City Hall), Ottawa, Ontario.

2. This information was produced through the Council of Canadians with Disabilities' Disabling Poverty/Enabling Citizenship project, which is funded by the Social Sciences and Humanities Research Council's (SSHRC) Community-University Research Alliances (CURA).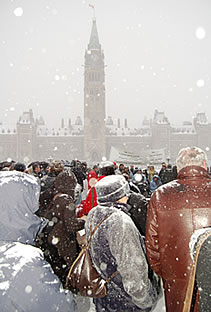 End Exclusion supporters rally in support of an accessible and inclusive Canada.