Act Now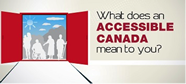 Empower U: Learn to Access Your Disability Rights Training on Canadian Human Rights, the Convention on the Rights of Persons with Disabilities (CRPD) and its Optional Protocol (OP) training aims to increase awareness of how to address discrimination using more familiar Canadian human rights laws such as Human Rights Codes and the newer international Convention on the Rights of Persons with Disabilities (CRPD). This is training for persons with disabilities by persons with disabilities. The training is part of a project funded by Employment and Social Development Canada and implemented by the Council of Canadians with Disabilities (CCD) in collaboration with Canadian Multicultural Disability Centre Inc. (CMDCI), Citizens With Disabilities – Ontario (CWDO), Manitoba League of Persons with Disabilities (MLPD) and National Educational Association of Disabled Students (NEADS). Read more.
Sign Up for our monthly digest
A monthly newsletter from CCD about what is happening in the community
Immigration and Disability
23 March 2012
Member of Parliament
House of Commons
Ottawa, ON
K1A 0A6

Dear Sir/Madam:
Once again, Citizenship and Immigration Canada is demonstrating to Canadians that they do not want another person with a disability living in this country. In "Fight to keep autistic boy in Canada…" (16 March 2012), Hamilton Spectator reporter Carmela Fragomeni explained the case of the Kims. Canada does not want the Kims because their 12-year-old son has autism and may, according to present immigration policy place, what the Government terms "excessive demands" on health and social services. Sungsoo Kim, who works in IT, came to Canada as a student, stayed on work permits and, now, seeks permanent residency.
Canadians are left wondering why a country that celebrates the contribution of people like Rick Hansen, Terry Fox, Lt. Gov. David Onley and others with disabilities would refuse permanent residency to a family seeking to build a life here in Canada simply because their child has a disability. The Council of Canadians with Disabilities (CCD), a national organization of people living with disabilities, brings this case to your attention because it shows the unjust and unreasonable approach to disability embraced by Canada's immigration system.
Historically, Canada's immigration system, relying on negative stereotypes, excluded immigrants who were female, gay or lesbian, were from non-European countries, or were non-Christian. For example, thousands of Jewish people fleeing Nazi Germany were refused entry into Canada. Canada has reformed its immigration system to remove sexist, homophobic, xenophobic, and religious biases. While Canada now welcomes members of formerly excluded groups, the Canadian immigration system continues to exclude people with disabilities by applying an outmoded and unethical standard, when evaluating applicants where disability is a characteristic.
The immigration system seeks to determine what a newcomer with a disability would likely cost Canada in terms of health and social services. This approach ignores the contributions that a person with a disability will make and it also ignores the fact that any newcomer could acquire a disability or chronic illness, which would place a demand on health care and social services. The immigration system's approach is based on the faulty assumption that people with disabilities are a burden on society and cannot make a contribution. Canada's immigration practices perpetuate negative stereotypes and devalue Canadians with disabilities.
Canada has removed biases which prevented the immigration of other groups of people; it is now time that Canada removes discrimination on the ground of disability from the decision-making process in the immigration system. It is time that the Government of Canada begin to implement the UN Convention on the Rights of Persons with Disabilities which, among other things, addresses citizenship and mobility rights for people with disabilities. CCD urges you, as a Member of Parliament, to champion immigration reform aimed at making Canada's immigration practices toward people with disabilities ethical and inclusive.
Sincerely,

Tony Dolan
Chairperson