Act Now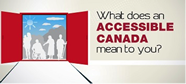 Empower U: Learn to Access Your Disability Rights Training on Canadian Human Rights, the Convention on the Rights of Persons with Disabilities (CRPD) and its Optional Protocol (OP) training aims to increase awareness of how to address discrimination using more familiar Canadian human rights laws such as Human Rights Codes and the newer international Convention on the Rights of Persons with Disabilities (CRPD). This is training for persons with disabilities by persons with disabilities. The training is part of a project funded by Employment and Social Development Canada and implemented by the Council of Canadians with Disabilities (CCD) in collaboration with Canadian Multicultural Disability Centre Inc. (CMDCI), Citizens With Disabilities – Ontario (CWDO), Manitoba League of Persons with Disabilities (MLPD) and National Educational Association of Disabled Students (NEADS). Read more.
Sign Up for our monthly digest
A monthly newsletter from CCD about what is happening in the community
CCD Presentation to the House of Commons Standing Committee of Finance
June 1, 2012
Regarding: Bill C-38 – An Act to implement certain provision of the Budget tabled in Parliament on March 29, 2012 and other measures
Presenter: Vangelis Nikias,
Convention on the Rights of Persons with Disabilities (CRPD) Project Manager
CCD is pleased to have the opportunity to present to the Finance Committee and thanks the Committee for this invitation.
Budget 2012 has created some new initiatives that CCD believes will help build a more inclusive and accessible Canada as well as initiatives that raise serious questions and possibly new barriers for people with disabilities.

Positive Initiatives
The creation of an Employment Panel to report to Ministers Flaherty and Finley by December on best practices within the private sector on the employment of persons with disabilities is welcome and CCD is eager to be of assistance. Equally important and positive were the revisions to the Registered Disability Saving Plan (RDSP) that removed a significant barrier for persons with intellectual disabilities and their families to opening an RDSP. The RDSP continues to be a program of significant benefit to Canadians with disabilities and their families. As well, CCD was pleased to see the allocation of $10 million new dollars to the Opportunities Fund, a program that helps Canadians with disabilities get jobs.

Old Age Security Reform
Of concern to CCD is the raising of age of eligibility for Old Age Security (OAS) and the Guaranteed Income Supplement (GIS) from 65 to 67.
Canadians with disabilities disproportionately live in poverty. Between 45 and 60 percent of those living on social assistance (welfare) are persons with disabilities, and this number continues to increase. Many Canadians with disabilities have been, and will continue to be excluded from the current labour market unless significant new initiatives are created to remove barriers to employment.
Old Age Security coupled with the Guaranteed Income Supplement benefit is better than any social assistance program in Canada with the exception of Alberta's AISH program, where a significant increase was just announced in December. Sadly, many Canadians with disabilities look forward to turning 65 because they will have a better income benefit and will be raised out of poverty.
Increasing the age of entitlement for OAS will force persons with disabilities to live in poverty longer.
OAS, while the foundation of Canada's retirement policy, does not exist in isolation. In fact, many other benefits are designed to work in tandem with OAS.
Therefore, CCD recommends that your committee carefully weigh the following questions:
Will raising the age of entitlement trigger a change in the Age Exemption in the Income Tax Act?
Will Long Term Disability (LTCD) plans and Workers Compensation policies now extend benefits to age 67? Presently LTD claims and Workers Compensation claims end when people become eligible for OAS. Will this change increase premiums?
Will Canada Pension Plan benefits also change the age of eligibility? Will this apply to both the early retirement and full benefit?
The points raised by CCD are worthy of study. New policy initiatives should enhance the status of Canadians with disabilities not create greater disadvantages for them. There is time to ensure that the OAS reforms cause no negative impact or extend the poverty Canadians with disabilities. CCD urges the Government of Canada to consider and ameliorate the negative impact the OAS changes will have on Canadians with disabilities.

Employment Insurance Reform
Employment Insurance (EI) sadly is of benefit to only some of our members in that many within our community continue to be excluded from the labour market, or work part-time and are unable to establish enough insurable weeks to be eligible for EI. The EI reforms proposed must recognize that persons with disabilities face additional barriers to employment. Some jobs are simply not suitable, depending on particular impairments and related barriers. For example I am sure none of you want me driving a cab. In other instances, people cannot relocate for employment because their support services are not portable, or accessible transportation systems do not exist. EI reform must include in their assessment an understanding of disability, barriers to employment for persons with disabilities and the need for appropriate accommodation.
CCD seeks a federal labour market strategy for persons with disabilities that will improve labour market participation and in particular address the issues of young people with disabilities. Young people with disabilities, including Aboriginal People with disabilities must be supported to move from school to work. This transition is critically important and new investments are required.
CCD reminds all Members of Parliament that Canada ratified the Convention on the Rights of Persons with Disabilities (CRPD) over two years ago. Ratification means that Canada has undertaken to continuously improve the standards of living for persons with disabilities, including through retirement benefits (CRPD Article 28). This commitment is especially relevant to the proposed OAS changes which, if implemented without compensatory measures, will have the effect of further impoverishing Canadians with disabilities, not improving our standards of living.
We ask that you take these concerns into account in your considerations, and we thank you for the opportunity to appear before you today.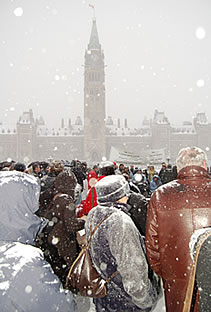 End Exclusion supporters rally in support of an accessible and inclusive Canada.