Act Now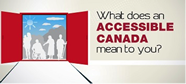 Empower U: Learn to Access Your Disability Rights Training on Canadian Human Rights, the Convention on the Rights of Persons with Disabilities (CRPD) and its Optional Protocol (OP) training aims to increase awareness of how to address discrimination using more familiar Canadian human rights laws such as Human Rights Codes and the newer international Convention on the Rights of Persons with Disabilities (CRPD). This is training for persons with disabilities by persons with disabilities. The training is part of a project funded by Employment and Social Development Canada and implemented by the Council of Canadians with Disabilities (CCD) in collaboration with Canadian Multicultural Disability Centre Inc. (CMDCI), Citizens With Disabilities – Ontario (CWDO), Manitoba League of Persons with Disabilities (MLPD) and National Educational Association of Disabled Students (NEADS). Read more.
Sign Up for our monthly digest
A monthly newsletter from CCD about what is happening in the community
Viewing Budget 2012 with a Disability Lens
30 March 2012
For Immediate Release
Budget 2012 made incremental improvements for people with disabilities: The Registered Disability Savings Plan will see a number of reforms making the rules on withdrawals more flexible, improving administration and allowing family members to open plans on behalf of adults who are not currently perceived as being "contractually competent". An additional $30 million over 3 years will be added to the Opportunities Fund to assist Canadians with disabilities to gain work experience with small and medium-sized businesses. The Government will also be introducing legislation to require federally regulated private sector employers to insure any long-term disability plans they offer to their employees.
Last week, the Council of Canadians with Disabilities (CCD), a national organization of people with disabilities working for an inclusive and accessible Canada, called for the Federal Government to consider the effect of Old Age Security (OAS) reforms on Canadians with disabilities. Budget 2012 indicates the Federal Government will have discussions with the provinces and territories about the impact of OAS reforms on Canada Pension Plan (CPP) disability benefits. CCD has identified questions that need a response from Canada's governments.
OAS is a disability issue. Canadians with disabilities disproportionately live in poverty. Between 45 and 60 percent of those living on social assistance are persons with disabilities, and this number continues to increase. OAS coupled with the Guaranteed Income Supplement (GIS) benefit is better than any social assistance program in Canada. Increasing the age of entitlement for OAS will keep persons with disabilities living in poverty longer.
OAS does not exist in isolation. In fact, many other benefits are designed to work in tandem with OAS. "CCD is making public a number of questions that need answering related to the OAS reform which will see people waiting longer for their old age pension. This change will deepen and lengthen the poverty experienced by people with disabilities and create further inequality for us," states Marie White, Chairperson of CCD's Social Policy Committee. "New policy initiatives should enhance the status of Canadians with disabilities, not create greater disadvantages for us," states White. CCD is seeking answers from Federal/Provincial and Territorial Governments on how increasing the age eligibility for OAS will affect other public policy measures:
Will raising the age of entitlement trigger a change in the Old Age Exemption in the Income Tax Act?
Will Long Term Disability and Workers Compensation policies now extend benefits to age 67?
Will Canada Pension Plan benefits also change the age of eligibility?
Will this apply to both the early retirement and full benefit?
How will provinces respond to persons with disabilities and others remaining on social assistance for a longer period of time? Will it result in reducing those benefits or limiting future improvements?
How will OAS and GIS eligibility changes affect eligibility to other services such as pharmacare, subsidized housing, home care, etc.?
"CCD calls upon the Government of Canada to apply a disability lens while establishing the rules governing pension reform and to develop a long term comprehensive strategy designed to ensure the integration of people with disabilities into the labour market - in real, meaningful, good paying jobs," states Tony Dolan, CCD Chairperson.
-30-
For More Information Contact:
Tony Dolan, CCD Chairperson
Tel: 902-569-2817
Marie White, Chairperson, CCD Social Policy Committee
Tel: 709-739-8233
Laurie Beachell, CCD National Coordinator
Tel: 204-947-0303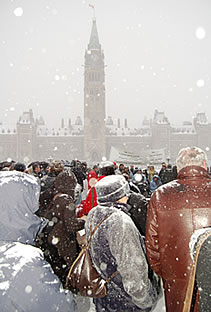 End Exclusion supporters rally in support of an accessible and inclusive Canada.