Act Now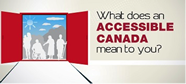 Empower U: Learn to Access Your Disability Rights Training on Canadian Human Rights, the Convention on the Rights of Persons with Disabilities (CRPD) and its Optional Protocol (OP) training aims to increase awareness of how to address discrimination using more familiar Canadian human rights laws such as Human Rights Codes and the newer international Convention on the Rights of Persons with Disabilities (CRPD). This is training for persons with disabilities by persons with disabilities. The training is part of a project funded by Employment and Social Development Canada and implemented by the Council of Canadians with Disabilities (CCD) in collaboration with Canadian Multicultural Disability Centre Inc. (CMDCI), Citizens With Disabilities – Ontario (CWDO), Manitoba League of Persons with Disabilities (MLPD) and National Educational Association of Disabled Students (NEADS). Read more.
Sign Up for our monthly digest
A monthly newsletter from CCD about what is happening in the community
Disabled citizens lose once again, unfairly blamed in CPP Changes
For immediate release
14 February 1997
Winnipeg—Receiving CPP disability benefits becomes extremely difficult for future disabled applicants and recipients as a result of the changes announced by the Government of Canada and eight of ten provincial governments. "Disability benefits have been scapegoated as one of the causes of the insecurity of the Canada Pension Plan," said Allan Simpson, a past Chairperson of CCD.
Whereas the Government of Canada and eight out of ten Canadian provinces and the territories have announced their agreement to change the CPP to secure its future, the Council of Canadians with Disabilities (CCD) predicts that the proposed changes will increase our poverty. This continues the trend of eroding the citizenship rights and financial security of people with disabilities across the country.
These changes single out persons with disabilities by increasing the eligibility period. Before this change one had to work two out of the last three or five out of the last ten years to qualify for a pension. Now one has to work at least four out of the last six years to even apply. "This hits hard people with disabilities who have not been able to find long term, stable employment," said Angelo Nikias, a member of CCD's Social Policy Working Group.
Equally devastating is the reduction of the level of benefits for people with disabilities when they reach retirement age, because now the calculation of a disabled person's retirement pension will not be fully indexed.
Canadians with disabilities object to the proposed abolition of the Canada Pension Plan Advisory Board which has provided community input into the administration of the Canada Pension Plan. "Whatever little opportunity for input we had, is now gone," said Eric Norman, Chairperson of CCD. Again this follows the pattern whereby governments consult less with citizens.
CCD is a national self-help organization of persons with disabilities.
-30-
For more information, contact :
Allan Simpson, Angelo Nikias and Eric Norman
at the Sheraton Hotel on Saturday and Sunday.
Tel: 204-942-5300 (Manitoba Ballroom A.)
From Monday onwards CCD office Tel: 204-947-0303.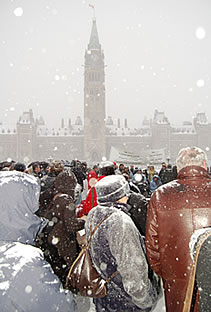 End Exclusion supporters rally in support of an accessible and inclusive Canada.