Act Now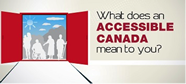 The Government of Canada is leading consultations to inform planned accessibility legislation.
In-person sessions are coming soon to your community. Now is the chance to have your say. Read more.
Sign Up for a Voice of Our Own
A quarterly newsletter from CCD.
CCD Takes Its Case for Fairer CPP to Supreme Court
For Immediate Release
9 November 1999
The Council of Canadians with Disabilities (CCD), a national advocacy organization of persons with disabilities, has intervenor status in the Supreme Court case between Allan Granovsky (Appellant) and the Minister of Employment and Immigration (Respondent), which will be heard 10 November 1999.
"CCD is intervening in this case in an effort to see fairness restored to the Canada Pension Plan's Disability Benefit provisions. The current administration of the Plan penalizes people who have temporary disabilities and this is a violation of equality rights guaranteed to Canadians with disabilities by the Charter of Rights and Freedoms," states Hugh Scher, Chairperson of the CCD Human Rights Committee.
CCD intervened in this case because there are many people like Mr. Granovsky who have severe disabilities which are temporary, progressive or variable in nature. The Canada Pension Plan treats these Canadians unfairly by failing to accommodate the circumstances of their disabilities in the formula it uses to calculate eligibility for Disability Benefits.
"Canadian society has failed to recognize the many obstacles to full participation experienced by people with temporary disabilities," states Laurie Beachell, CCD National Coordinator. "Barrier removal for this group of Canadians is long overdue."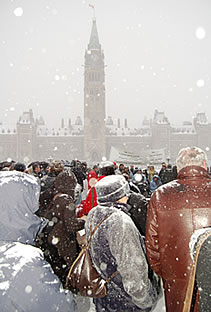 End Exclusion supporters rally in support of an accessible and inclusive Canada.