Act Now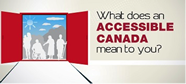 Empower U: Learn to Access Your Disability Rights Training on Canadian Human Rights, the Convention on the Rights of Persons with Disabilities (CRPD) and its Optional Protocol (OP) training aims to increase awareness of how to address discrimination using more familiar Canadian human rights laws such as Human Rights Codes and the newer international Convention on the Rights of Persons with Disabilities (CRPD). This is training for persons with disabilities by persons with disabilities. The training is part of a project funded by Employment and Social Development Canada and implemented by the Council of Canadians with Disabilities (CCD) in collaboration with Canadian Multicultural Disability Centre Inc. (CMDCI), Citizens With Disabilities – Ontario (CWDO), Manitoba League of Persons with Disabilities (MLPD) and National Educational Association of Disabled Students (NEADS). Read more.
Sign Up for our monthly digest
A monthly newsletter from CCD about what is happening in the community
Calvin Wood's Presentation to End Exclusion 2010
Calvin Wood is from Windsor, Nova Scotia. He has worked hard to make People First Windsor an innovative and successful group. He asked the mayor for office space and now they have an office. He has registered their group for charitable status so now they can do fund‑raising. He asked people to provide a computer for their office so that members can use it. They now have a computer. Calvin is in his second term as President of People First of Nova Scotia. He is also Vice President of the Board of Nova Scotia Association for Community Living and sits on other committees in Windsor.
My name is Calvin Wood. I live in Windsor, Nova Scotia, and I am in my second term as president of People First Nova Scotia. My presentation is about poverty and disability and what it means to me.
I am a person with a disability and living on social assistance. I just find that after I pay my bills, like rent and phone and cable, I am left with $250 a month for food, household things like clothing, coffee, and anything else I might need or want to do. That works out to about $7 a day for everything.
The cost of food goes up and my pension cheques stay the same. Other costs go up, like cable or phone, and my disability pension stays the same.
I shop for clothes at thrift shops so I don't buy anything new. I have my clothes on today from thrift shops.
I like going to Tim's sometimes for lunch or for coffee, but I often don't have any money left to do that.
It costs a lot to buy healthy food. I need help to pick the right food and I need more money to buy things that will keep me healthy.
I would like to have more to live on.
I get $50 a month for work I do at a store in Wolfville and I get a bus pass.
If I have a job making more money, I would have to deduct the wage from my pension so really, with my disability, it is hard to earn enough to make a difference in what money I have.
I'm lucky, though, that I am supported by a group called SSG, that is a support service group.
I have an attendant who helps me for six hours a week and I live by myself in an apartment.
I get help with washing, food shopping and other personal items.
I have help from the coordinator of SSG with banking, medication and recreation.
My attendant goes with me once a month to shop. Then in between, I get the groceries I need.
SSG gets $400 a month and my attendant gets $276. My rent is $550 including heat and electricity.
I wish some of that money could come to me so I could do more things.
My $50 goes to the Internet. I have a laptop that my sister got me and I spend a lot of time e‑mailing friends and being on the Internet.
Some of my friends are worse off than me. Some don't get any help even though they have a disability. My friend Evelyn gets only small social assistance. My friend Donna, who is the vice president of People First Nova Scotia, doesn't get help for her teeth or glasses and has to use the food bank.
Another friend is not on assistance and works part time. He can barely pay his rent and has no one to help with medications.
We are all very poor.
It is like being here in this nice hotel, all my expenses are paid so I'm really lucky, but I don't have any other money to go anywhere or to buy anything so I'm not really too lucky.
I would like the public to be aware that living on social assistance puts the person, that is me and many of my friends and most of our People First members, in poverty. And then when we try to work, they cut back on the assistance. And how we can buy clothes for work and pay for the transportation to get there? It is like they try to keep people with intellectual disability poor and dependent.
I have been a member of People First for 15 years. We are trying to support each other and we come together from all over the province of Nova Scotia, and we come together from all over Canada and we discuss things that are important to us.
We need jobs that will help us to be helpful in our communities and that will help us to live with some respect. We care that people with intellectual disabilities are still placed in institutions. Imagine how poor they are. No jobs, no going to Tim's with friends, no choices in what to eat. No way to get to be a member of groups like People First. No way to live like the rest of us here, that is in poverty.
I'm learning that we have rights like all Canadians. While I'm not sure if having rights will help us come out of poverty. Thank you.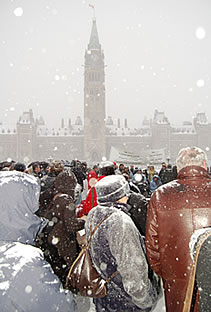 End Exclusion supporters rally in support of an accessible and inclusive Canada.