Act Now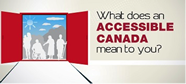 Empower U: Learn to Access Your Disability Rights Training on Canadian Human Rights, the Convention on the Rights of Persons with Disabilities (CRPD) and its Optional Protocol (OP) training aims to increase awareness of how to address discrimination using more familiar Canadian human rights laws such as Human Rights Codes and the newer international Convention on the Rights of Persons with Disabilities (CRPD). This is training for persons with disabilities by persons with disabilities. The training is part of a project funded by Employment and Social Development Canada and implemented by the Council of Canadians with Disabilities (CCD) in collaboration with Canadian Multicultural Disability Centre Inc. (CMDCI), Citizens With Disabilities – Ontario (CWDO), Manitoba League of Persons with Disabilities (MLPD) and National Educational Association of Disabled Students (NEADS). Read more.
Sign Up for our monthly digest
A monthly newsletter from CCD about what is happening in the community
Flaherty's legacy for Canadians with disabilities
By Michael Bach and Laurie Beachell
(This article first appeared in the Ottawa Citizen (14 April 2014).)
Disability was first and foremost a very personal matter for Jim Flaherty. In an article for the Canadian Association for Community Living's newsletter he wrote about his son with an intellectual disability:
"Being John's father has changed my perception of what really matters in life. The months during his second year of life when John was grievously ill and near death in the hospital were the most desperate time, but a time that I always recall when faced with some crisis or another — all comparisons fail when compared to the desperation of that time. John gave us context about what really matters."
Disability does give us context, whether we are among the 14 per cent of Canadians who live with a disability ourselves or are family members, co-workers, support providers or advocates whose daily lives are shaped in its presence. That's pretty well all of us, if we're open to its growing reality.
But it wasn't only personal experience that moulded Jim Flaherty's views. Among the senior ministers we have worked with over three decades he was among two or three who had an open-door policy for the disability community. He wanted to hear our concerns and our policy ideas about the big issues facing Canadians with disabilities — access, poverty, lack of needed services, unemployment. We did not always agree but we always found new ways to improve the status of Canadians with disabilities.
A telling example is the Registered Disability Savings Plan he introduced to enable future financial security for people with significant disabilities. A private savings vehicle enhanced with federal grants and bonds, it was inspired by Planned Lifetime Advocacy Networks and parents who presented their case directly to the minister. Financial security for their sons and daughters after they had passed on was paramount. It was one of Flaherty's proudest achievements, about which he spoke many times and with deep emotion. He understood a parent's fears.
Flaherty also led the creation of the federal Enabling Accessibility Fund to improve access in workplaces and community services. At $15 million/year the fund has supported over 1,000 projects across the country. Labour force participation of people with disabilities was another priority for the minister, and the $500 million/year labour market agreements with provinces he introduced in 2007 have had a huge impact on financing community-based employment training and support services.
The disability dimension of Flaherty's policy leadership showed up in tax policy as well. To the Working Income Tax Benefit for low-income workers he added a supplement to recognize additional costs of disability. In his final budget, there were additional targeted investments including the Ready, Willing and Able'national program promoting employer demand to recruit and hire people with developmental disabilities and the Community Works Canada program for pre-employment supports for young people with autism spectrum disorder.
What is Flaherty's federal disability legacy? First, he had a major policy impact with the creation of the Registered Disability Savings Plan, foundational architecture for income security for generations to come. Does it solve the poverty crisis of Canadians with disabilities in this country? Does the Working Income Tax Benefit disability supplement? Definitely not. And Jim Flaherty would be the first to admit that. But as he told us, he wanted the federal government to make a bigger dent on that front.
Second, it is true that targeted disability initiatives like the Enabling Accessibility Fund or Ready, Willing and Able or Community Works won't go far enough to solve the issues to which they speak. Substantial progress on accessibility also demands investments and universal design requirements in everything from federal infrastructure programs to National Building Code enforcement, to federally-regulated transportation and procurement of accessible technologies. Neither will the new employment initiatives fully address the needs of the 70 per cent of adults with developmental disabilities who are not employed. Nonetheless, like other measures he put in place, they signal policy direction and federal commitment. They seed innovations which can be scaled up and improved in the future.
Most importantly, Flaherty has cemented a federal policy and spending role in the crucial areas of income security, labour force participation and accessibility for Canadians with disabilities. A proactive federal role was by no means certain, as policy debates over the years have shown. Yet Flaherty's policy, programming and financing leadership has indisputably left the federal government with stepping stones towards future improvements and, we hope, momentum. A couple of years ago we presented the minister with the disability community's national action plan for Building an Inclusive and Accessible Canada. Always willing to show up and proudly announce his government's accomplishments, he also acknowledged there was more to be done on the job our plan laid out.
In the architecture Flaherty built, his place as a federal champion for Canadians with disabilities is assured. He made an immense difference and he will be missed. It is our hope that others, who speak so highly of his public service, will find ways to finish the job not yet complete.
Michael Bach is Executive Vice-President, Canadian Association for Community Living; Laurie Beachell is National Coordinator, Council of Canadians with Disabilities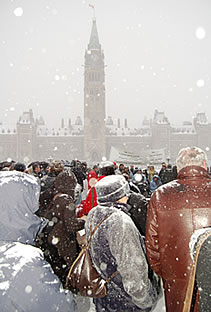 End Exclusion supporters rally in support of an accessible and inclusive Canada.