Act Now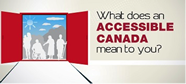 Empower U: Learn to Access Your Disability Rights Training on Canadian Human Rights, the Convention on the Rights of Persons with Disabilities (CRPD) and its Optional Protocol (OP) training aims to increase awareness of how to address discrimination using more familiar Canadian human rights laws such as Human Rights Codes and the newer international Convention on the Rights of Persons with Disabilities (CRPD). This is training for persons with disabilities by persons with disabilities. The training is part of a project funded by Employment and Social Development Canada and implemented by the Council of Canadians with Disabilities (CCD) in collaboration with Canadian Multicultural Disability Centre Inc. (CMDCI), Citizens With Disabilities – Ontario (CWDO), Manitoba League of Persons with Disabilities (MLPD) and National Educational Association of Disabled Students (NEADS). Read more.
Sign Up for our monthly digest
A monthly newsletter from CCD about what is happening in the community
Waiting to Be Tax Payers
For Immediate Release | September 18, 2008
St. John's Newfoundland—"I am glad to be a taxpayer," says Marie White, Chairperson of the Council of Canadians with Disabilities, a national human rights organization that uses a disability lens when analyzing public policy issues. "I know what it is like not being able to work due to barriers in society and I also know what it is like to be part of the labor market and a tax payer. Having a job, gives many Canadians with disabilities the financial means to develop the lifestyle they want, feelings of personal satisfaction and contribution, a personal network of friends and colleagues, as well as many other benefits unique to the individual."
Due to barriers in Canadian society, many Canadians with disabilities have not successfully made the transition to paid worker and tax payer. Over 56% of working age adults with disabilities are unemployed or out of the workforce. For women with disabilities the rate is almost 60%.
The disability community has created a National Action Plan on Disability, which provides a short and long term strategy, that among other initiatives will get people with disabilities working and paying taxes. "People with disabilities don't want to be sitting on the sidelines of life due to barriers in our community. The National Action Plan on Disability shares some steps on how Canada's Federal, Provincial and Territorial Government can assist Canadians with disabilities exercise their rights and responsibilities."
The Council of Canadians with Disabilities has written to all the Party Leaders and asked them to endorse the National Action Plan on Disability during the Federal Election and implement its agenda if they are elected to office.
"For example, we are challenging each of them to agree to make the Federal Government of Canada a model employer of persons with disabilities," states White.
-30-
For more information contact:
Marie White, CCD Chairperson - 709-739-8233
Claredon Robicheau, CCD Executive Member - 902-769-2474
John Rae, CCD Vice Chairperson - 416-941-1547
Laurie Beachell, CCD National Coordinator - 204-947-0303 or cel 204-981-6179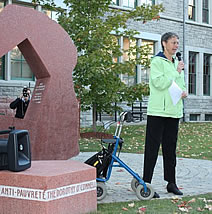 Marie White, a former Chairperson of CCD, addresses anti-poverty rally.