Act Now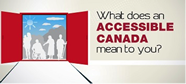 Empower U: Learn to Access Your Disability Rights Training on Canadian Human Rights, the Convention on the Rights of Persons with Disabilities (CRPD) and its Optional Protocol (OP) training aims to increase awareness of how to address discrimination using more familiar Canadian human rights laws such as Human Rights Codes and the newer international Convention on the Rights of Persons with Disabilities (CRPD). This is training for persons with disabilities by persons with disabilities. The training is part of a project funded by Employment and Social Development Canada and implemented by the Council of Canadians with Disabilities (CCD) in collaboration with Canadian Multicultural Disability Centre Inc. (CMDCI), Citizens With Disabilities – Ontario (CWDO), Manitoba League of Persons with Disabilities (MLPD) and National Educational Association of Disabled Students (NEADS). Read more.
Sign Up for our monthly digest
A monthly newsletter from CCD about what is happening in the community
Access to Justice: A Disability Issue
For Immediate Release | September 22, 2008
It is not mom and pop stores that are discriminating against people with disabilities. It is major corporations that have the legal resources to fight against equality all the way to the Supreme Court. At one time, the Court Challenges Program funded test case litigation based on Section 15 of the Charter of Rights and Freedoms, but that aspect of the Program has been de-funded by the current government. In order for people with disabilities to fight discrimination the Court Challenges Program mandate to fund Section 15-based test case litigation needs to be restored.
People with disabilities are no stranger to David and Goliath battles. Canadians with disabilities took VIA Rail to court—and won at the Supreme Court—to get accessible passenger rail cars on the tracks (CCD v. VIA Rail). We took Air Canada to court to get airlines to accommodate passengers with disabilities who need additional seating space when travelling (CCD v. Air Canada & WestJet). This is an accommodation provided by Canada's bus and rail industries. Canadians with disabilities have also had to take the Government of Canada to court in order to achieve dignified access to public facilities (i.e. Brown v. NCC & Public Works). While the Charter of Rights and Freedoms and the Canadian Human Rights Act protect people with disabilities against discrimination and inequality, barriers continue to be a fact of life for people with disabilities. Often court action is the only recourse for people with disabilities who have seen their rights trampled.
The current Federal Government of Canada has been criticized by UN Treaty Monitoring Bodies for de-funding the Court Challenges Program because this action has severely curtailed access to justice for disadvantaged Canadians. There have been repeated calls by these bodies for the Court Challenges Program to be reinstated, and its mandate to be broadened. (CERD 2007, para. 26; CESCR 1998, para. 59; CESCR 2006, para. 42).
CCD has been calling on all Federal Political Parties to commit to the reinstatement of the Court Challenges Program. To date, the Liberal, NDP, Bloc and Green Parties have agreed to reinstate it if elected. The Conservative Party has not indicated a willingness to alter its course on this issue.
-30-
For more information contact:
Marie White, CCD Chairperson - 709-739-8233
Claredon Robicheau, CCD Executive Member - 902-769-2474
John Rae, CCD Vice Chairperson - 416-941-1547
Laurie Beachell, CCD National Coordinator - 204-947-0303 or cel 204-981-6179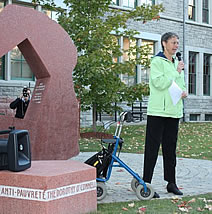 Marie White, a former Chairperson of CCD, addresses anti-poverty rally.