Act Now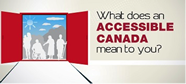 Empower U: Learn to Access Your Disability Rights Training on Canadian Human Rights, the Convention on the Rights of Persons with Disabilities (CRPD) and its Optional Protocol (OP) training aims to increase awareness of how to address discrimination using more familiar Canadian human rights laws such as Human Rights Codes and the newer international Convention on the Rights of Persons with Disabilities (CRPD). This is training for persons with disabilities by persons with disabilities. The training is part of a project funded by Employment and Social Development Canada and implemented by the Council of Canadians with Disabilities (CCD) in collaboration with Canadian Multicultural Disability Centre Inc. (CMDCI), Citizens With Disabilities – Ontario (CWDO), Manitoba League of Persons with Disabilities (MLPD) and National Educational Association of Disabled Students (NEADS). Read more.
Sign Up for our monthly digest
A monthly newsletter from CCD about what is happening in the community
CCD Election Challenge: Volume 1, Issue 2
A Voice of Our Own
Our motto is: A Voice of Our Own.
Ensure Party leaders hear the consumer voice.
Encourage other people with disabilities that you know to accompany you to events where the Party leaders will be present.
Get someone with a disability to ask Party leaders about their position on the National Action Plan on Disability.
Report back to CCD about any responses you receive from candidates or the Leaders.
People with disabilities want the next Federal Government to have a social policy agenda.
Vote
Make sure you vote and encourage others to vote. Be an informed voter! Ask candidates questions about issues relevant to you. Last week, CCD questioned all candidates about their plans on disability-related supports, poverty, labour market and access. CCD will share the responses it receives. Reach your own decision about which Party will do the best job on the issues important to you.
Voting is your opportunity to have your say about how Canada will be run for the next four years.
Make your vote count. Go to the polls on election day.
Educate Other Voters on Access & Inclusion
An accessible and inclusive Canada will benefit everyone.
All Canadians need to know about the Parties' plans on disability issues.
Let other Canadians, with and without disabilities, know about the National Action Plan on Disability.
Inform the local media about the responses you have received, or not received, to your questions about the Parties' plans on disability issues.
Write Letters to the Editor. Submit opinion pieces.
Make your views known about candidates' positions via a YouTube video.
Make disability visible during Election 2008!
Speak out on disability issues during Federal Election 08!
Getting to the Polls
As everyone in the disability community knows, transportation can present a significant barrier to participating in community events. Don't let a lack of transportation prevent you from voting in this election.
If you think you or other people with disabilities might have trouble getting to the polls on election day, talk to the various political parties in your riding to see if they can help secure accessible transportation on election day for voters with disabilities.
Access at the Polls
Elections Canada has worked to improve access for voters with disabilities. Before voting day, Elections Canada provides training on access to returning officers. For more information about accessible voting, contact Elections Canada at: 1-800-463-6868 toll-free in Canada and the United States. For people who are deaf or hard of hearing: TTY 1-800-361-8935 toll-free in Canada and the United States.
Each Federal Election, CCD and its members educate candidates about needed disability policy reform. Get the National Action Plan.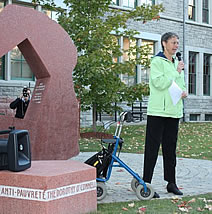 Marie White, a former Chairperson of CCD, addresses anti-poverty rally.