Act Now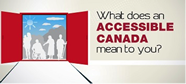 Empower U: Learn to Access Your Disability Rights Training on Canadian Human Rights, the Convention on the Rights of Persons with Disabilities (CRPD) and its Optional Protocol (OP) training aims to increase awareness of how to address discrimination using more familiar Canadian human rights laws such as Human Rights Codes and the newer international Convention on the Rights of Persons with Disabilities (CRPD). This is training for persons with disabilities by persons with disabilities. The training is part of a project funded by Employment and Social Development Canada and implemented by the Council of Canadians with Disabilities (CCD) in collaboration with Canadian Multicultural Disability Centre Inc. (CMDCI), Citizens With Disabilities – Ontario (CWDO), Manitoba League of Persons with Disabilities (MLPD) and National Educational Association of Disabled Students (NEADS). Read more.
Sign Up for our monthly digest
A monthly newsletter from CCD about what is happening in the community
Disability, Poverty and Citizenship: A Short Note
for
The Community-University Research Alliance
"Disabling Poverty and Enabling Citizenship"
by
Yvonne Peters & Michael J. Prince
February 2009
Introduction

At our Community and University Research Alliance (CURA) Team meetings in Winnipeg on January 6 and 7, 2009, questions arose and discussion followed around the meaning of concepts central to our research project.
Questions about concepts included the following:
What is poverty? More specifically, what is the problem around poverty for persons with disabilities that this CURA is addressing?
What is substantive equality?
What does economic independence mean?
Given the fundamental importance of these concepts for our research, and the absence of a single document to offer a shared understanding, the Co-Principal Investigators, Yvonne Peters and Michael J. Prince, agreed to draft a short paper to provide some guidance and to invite further dialogue within and across the four Theme areas of this CURA project.

The CURA Submission: What it Says About Poverty and Disability
A central aim of our CURA, we state in the submission, is "developing reform options that will substantially improve the material living conditions and life chances of people with disabilities and their families." Elsewhere in the submission, we note that our research will strive to be "relevant to improving their material conditions, quality of life, and rights and responsibilities as citizens."
On the general issue of poverty, we refer to the "basic necessities of life" and describe those necessities as including the basics of food, shelter and clothing; we speak of "the wrenching barriers and challenges to decent livelihoods" and to "barriers to economic and social participation."
We say also, that poverty has "multiple layers and forms of material and cultural constraints, institutional structures and practices, and choices and struggles." This is a short statement, yet one rich with possible ideas, hypotheses, and lines for research.
When we make specific reference to the poverty of Canadians with disabilities, we refer to "the pervasive poverty experienced by people with disabilities," as "the life long poverty," "the disproportionate poverty experience," and "poverty that leads to marginalization and isolation of a disproportionate number of Canadians with disabilities." These statements emphasize the relative pervasiveness and something of the social effects of poverty on people with disabilities.
Overall, the image of poverty presented in our CURA submission is one that involves barriers and inaccessibility to public and private programs and supports, economic and community exclusions, financial and cultural deprivations, inactions as well as actions with harmful effects on individuals, households and other social relationships. Income is a vital part but only one part of the phenomenon we call poverty and, therefore, is one piece of an agenda for disabling poverty and enabling citizenship.
In regards to our research methodology, in the submission, "We consciously take up a social model of disability…. [Which means] disability is a public issue, not only a "personal trouble," and fundamentally concerns human rights and citizenship. Exclusion and poverty are matters of social injustice, politics and policy not only individual misfortunes." So, poverty results, for example, from paternalistic beliefs and discriminatory practices in child care, employment, education, training, housing, income maintenance programs and private life insurance plans.
Disability activists push hard against long-standing views of disability as a personal problem and private issue. Alongside individuals, core elements of society are families, local communities, and other groupings. Disability groups often focus on individuals and their needs, but the general emphasis is not individualistic; people are interdependent and interconnected through myriad networks of roles, structures, and relationships, some of which are enabling, and many others, over the life-course, disabling. People realizing their actual capacities rely in large measure on their membership, participation, and sense of belonging in a political society.
In addition, a rights-based approach to understanding poverty and disability, examines the role of international and domestic (federal and provincial) equality rights and human rights codes, case law and other legal protections and public policies. Part of this approach is to look at the roles and responsibilities of both the state (federal and provincial/territorial governments and public sectors) and other major social institutions in Canada, including private sector businesses and social enterprises.
Disability rights are founded on the principle of substantive equality. Substantive equality goes beyond the idea of ensuring that every one is treated the same. Owing to different life conditions or the effects of historical discrimination, same treatment may not always produce equal results.
For persons with disabilities, substantive equality means that positive steps must be taken to ensure that policies, standards, programs and services are fully accessible and inclusive. Additionally, persons with disabilities contend that substantive equality means that governments are obligated to institute positive measures to redress the barriers and conditions that create social and economic disadvantages and poverty.
Rights are for individuals as well as for groups. To advance substantive access and equality, it is necessary at times to treat people identically and at times to treat people differently. The disability movement asserts equality and equity, and individual and group rights as important values of justice.
A description of substantive equality is found in S. 15 of the Canadian Charter of Rights and Freedoms:

"Every individual is equal before and under the law and has the right to equal protection and equal benefit of the law without discrimination and, in particular, without discrimination based on race, national or ethnic origin, colour, religion, sex, age or mental or physical disability."

When the CURA paper mentions the idea of economic independence, it is used in a positive sense. The term seems to mean the participation of persons with disabilities of working age (15 to 64) in the paid labour force, as self-employed and waged workers (real pay for real work), providing a degree of financial security and reducing dependence on income programs, such as social assistance.
This idea of economic independence deserves further discussion and reflection as to how we want to define it, and how it relates to such other terms as: dependency, individual autonomy, human agency or capacity, and social interdependence (reciprocity or mutuality).

A working definition of poverty for this Theme and CURA
In feedback to a previous draft of this paper participants supported the suggestion that we adopt the definition of poverty as contained in Quebec legislation in regards to that jurisdiction's anti-poverty and social exclusion plan.
The definition of poverty is as follows:
"'Poverty' means the condition of a human being who is deprived of the resources, means, choices and power necessary to acquire and maintain economic self-sufficiency or to facilitate integration and participation in society."
Source: An Act to Combat Poverty and Social Exclusion, R.S.Q. L-7, c. II, s. 4.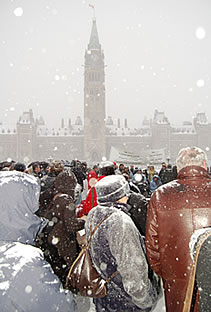 End Exclusion supporters rally in support of an accessible and inclusive Canada.