We Need Your Support
Donations are tax deductible and you will receive a charitable tax receipt for 100% of your gift.
Support CCD's work on the Carter case: Help To Live Not Die.
Act Now
You Presence is requested at CASHRA2013.ca Early bird registration ends April 18, so register online. Read more.
Sign Up for a Voice of Our Own
A quarterly newsletter from CCD.
Policy Reform: Roles of State and Society
Recent Work
June 5, 2012
Michael Prince explores the following questions: what kinds of knowledge circulate in and around the disability community in Canada? How does this knowledge connect the disability community with the Canadian state and other institutions in society? And, what might the future hold for more creative and innovative knowledge production for disability studies, disability activism and social change? Read more.
June 5, 2012
A politics of socio-economic redistribution is at the core of disability activism in Canada, complemented by a politics of recognition and a democratic politics of representation, the latter of which involves claims for more accessible, empowering, and accountable policy making structures and processes. Read more.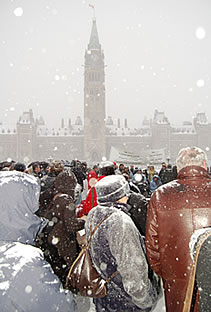 End Exclusion supporters rally in support of an accessible and inclusive Canada.