We Need Your Support
Donations are tax deductible and you will receive a charitable tax receipt for 100% of your gift.
Support CCD's work on the Carter case: Help To Live Not Die.
Act Now
You Presence is requested at CASHRA2013.ca Early bird registration ends April 18, so register online. Read more.
Sign Up for a Voice of Our Own
A quarterly newsletter from CCD.
Legal Protections
Recent Work
May 8, 2012
This paper examines the intersection between the United Nations Convention on the Rights of Persons with Disabilities ("CRPD") and Canadian litigation. Read more.
July 8, 2010
CURA team members have created an annotated bibliography which is intended as a resource for academics, students, advocates, and community members interested in the role that law has played—and can play—in remedying poverty experienced by people with disabilities. Read more.
More on Legal Protections
June 30, 2010
June 30, 2010
June 30, 2010
June 29, 2010
June 29, 2010
June 28, 2010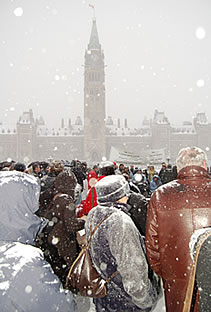 End Exclusion supporters rally in support of an accessible and inclusive Canada.