Act Now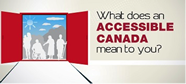 The Government of Canada is leading consultations to inform planned accessibility legislation.
In-person sessions are coming soon to your community. Now is the chance to have your say. Read more.
Sign Up for a Voice of Our Own
A quarterly newsletter from CCD.
Legal Protections
Recent Work
November 6, 2014
This paper argues that the poverty experienced by people with disabilities must be regarded as more than a social policy issue. The fulfillment of true equality and human rights recognition for people with disabilities demands that economic barriers be regarded as equally pernicious as those that impede access. Read more.
May 8, 2012
This paper examines the intersection between the United Nations Convention on the Rights of Persons with Disabilities ("CRPD") and Canadian litigation. Read more.
More on Legal Protections
July 8, 2010
June 30, 2010
June 30, 2010
June 30, 2010
June 29, 2010
June 29, 2010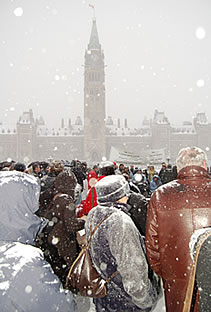 End Exclusion supporters rally in support of an accessible and inclusive Canada.