Act Now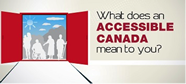 Empower U: Learn to Access Your Disability Rights Training on Canadian Human Rights, the Convention on the Rights of Persons with Disabilities (CRPD) and its Optional Protocol (OP) training aims to increase awareness of how to address discrimination using more familiar Canadian human rights laws such as Human Rights Codes and the newer international Convention on the Rights of Persons with Disabilities (CRPD). This is training for persons with disabilities by persons with disabilities. The training is part of a project funded by Employment and Social Development Canada and implemented by the Council of Canadians with Disabilities (CCD) in collaboration with Canadian Multicultural Disability Centre Inc. (CMDCI), Citizens With Disabilities – Ontario (CWDO), Manitoba League of Persons with Disabilities (MLPD) and National Educational Association of Disabled Students (NEADS). Read more.
Sign Up for our monthly digest
A monthly newsletter from CCD about what is happening in the community
Notes from Presentation by Lived Experience of Poverty Panelist Laurence Parent
(Laurence Parent is a doctoral student in humanities at Concordia University. She lives in Montreal and is involved with the Québec disability rights movement.)
I was asked to speak about personal experiences, what it is like to be living in Quebec in 2011 with physical disabilities.
I was born in 1985, not so long after the International Year of Disabled Persons. Seven years earlier, Quebec had adopted the act to secure the rights of persons with disabilities.
I was born in an average Canadian family. We had a house, two cars, and a cat and a dog. There were fine gifts under the Christmas tree every year.
In 1988, when I was only 3 years old, the cabinet of the Québec government adopted a decree with respect to compensation for costs related to disabilities. The state recognized the importance of financially compensating individuals who had disabilities for the costs incurred by their needs and the obstacles they encountered, regardless of their income, the purpose being integration.
I needed help with things like putting on my snowsuit, and that was a problem in the eyes of the school board. My parents insisted that I was entitled to go to school, and I returned to school.
I understood the full meaning of discrimination before knowing the word to speak it. A few days later, a specialist in child and educational psychology took me aside for an afternoon in his office. For the first time, I realized that my mental abilities were being assessed.
Years went by and I had a nice and happy youth without knowing I was part of the privileged. My parents assumed the costs which should have been covered by the government, according to the 1988 government decree. I had an adapted car seat for school, for buses, physiotherapy, and hospital care. My mother stayed at home to help me with day to day tasks. She even came to school with me for one full year, each and every Friday, because they had cut the salary of the individual that was supposed to help me go to the bathroom or help me dress or put on my winter boots.
I got my diploma from high school in 2002 when I was 16 years old.
In Canada, 48% of women with disabilities do not have a secondary school diploma, compared to 28% of those who don't have a disability.
After high school, I moved to Montreal, without knowing the opportunity that I had, and that luck was on my side. My mother is the owner of a rental building. We were able to get a subsidy to adapt the entrance, and the bathroom. The subsidy was higher because she happened to own the building, but in spite of all this, while the cost of the work was $40,000, the subsidy was only $20,000. Who paid the difference? Not the Québec government.
Again the decree was ignored. The difficulty to find housing for people with disabilities puts individuals into dangerous situations. They might develop very serious health problems or be forced to live with an abusive partner.
A few years after I came to Montreal, I began to think that I wanted to live alone without my parents, and that's when I was told about the support service for home care.
I discovered a parallel world that I had never known prior to that. Employees that were underpaid, employees that weren't trained, a lack of accessibility, everything. Very quickly I understood what it was to encroach upon one's dignity. I understood what would affect my life and my freedom. And I attempted to get better services, unsuccessfully. I realized that the line between dignity and humiliation is very, very thin. When you have a disability, you have to have money to live with dignity. The government wasn't there for that.
At age 18, I had my first interview for a summer job, an office job, with the city of Montreal. I knew that I could do the job easily. But when I came into the office, the first thing that I was told by the individual who was interviewing me was: "Had I known, I wouldn't have called you."
My disability created a problem. I could not do office work. My life as a privileged individual was coming to an end. I thus began to be part and parcel of the statistics.
In other words, in the past years, in four instances, I had to beg and I was given money. I am not the only one that does this, but when you have a visible disability, you have to expect that. Very often we are told that the times are changing, and those attitudes are isolated and backwards.
In reality, the services that used to exist are disappearing, more and more. Individuals with disabilities are poorer. We must be very vigilant. People who throw pennies to people with disabilities are the reflection of a society that is falsely abusive. We would be wrong to assume that such unacceptable gestures of charity belong to a far, far away past. They're deeply rooted in a very contemporary world.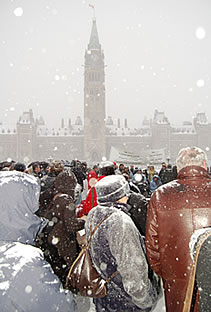 End Exclusion supporters rally in support of an accessible and inclusive Canada.