Act Now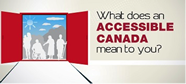 Empower U: Learn to Access Your Disability Rights Training on Canadian Human Rights, the Convention on the Rights of Persons with Disabilities (CRPD) and its Optional Protocol (OP) training aims to increase awareness of how to address discrimination using more familiar Canadian human rights laws such as Human Rights Codes and the newer international Convention on the Rights of Persons with Disabilities (CRPD). This is training for persons with disabilities by persons with disabilities. The training is part of a project funded by Employment and Social Development Canada and implemented by the Council of Canadians with Disabilities (CCD) in collaboration with Canadian Multicultural Disability Centre Inc. (CMDCI), Citizens With Disabilities – Ontario (CWDO), Manitoba League of Persons with Disabilities (MLPD) and National Educational Association of Disabled Students (NEADS). Read more.
Sign Up for our monthly digest
A monthly newsletter from CCD about what is happening in the community
Low-income families in British Columbia: the time is now for a new strategy
Presentation to the Select Standing Committee on Children and Youth, Legislative Assembly, Province of British Columbia
Morris J. Wosk Centre for Dialogue
Vancouver
May 21, 2010
Slide 1
Three Questions
What are the systemic causes of persistent low-incomes, and how do they affect families in British Columbia from one generation to the next – both Aboriginal and non-Aboriginal?
Are existing methods of measurement accurate, suitable and relevant to BC?
Which reduction strategies appear to be successful (or unsuccessful) in other jurisdictions and how can we best measure that success?
Slide 2
Contexts of low-income
Housing and homelessness
Education and literacy
The economy and labour force
Public policies and services
Federalism
Societal values, beliefs and attitudes
Legacies of colonialism
Slide 3
National measures of low-income in Canada
Low Income Cut-offs (LICO)
Low Income Measure (LIM)
Market Basket Measure (MBM)
Core Housing Need
Core Need Income Thresholds (CNIT)
Federal program indicators: Canada Child Tax Benefit & EI Family Supplement
Slide 4
Trends in poverty and inclusion measures across provinces
Using a collection of several indicators
Adapting LICO and MBM to provincial realities
Updating and cross-linking administrative data sets on income tax, benefits, and service caseloads
Developing new measures:
Ontario Deprivation Index & Newfoundland & Labrador MBM of Housing Affordability
Slide 5
Classic poverty relief policy
Narrow focus on "the poor"
Means-tested social assistance
Reliance on charitable and non-profit provisions
'Raise the rates' as the main issue
Piecemeal reforms and ad hoc responses
Separate programs, complex rules
Little social solidarity with wider population
Politically unattractive
Slide 6
Provinces adopting poverty reduction strategies
Québec 2002-2004
Newfoundland and Labrador 2006
Ontario 2008-09
Nova Scotia 2009
Manitoba 2009
New Brunswick 2009-10
Whose next?
Slide 7
Poverty reduction policies
Community engagement: built upon widespread public consultations
Political commitment: legislation and/or cabinet leadership
Strategic: vision, action plan, short-, medium- and long- term goals
Comprehensive: encompass several policy and program areas
Varied approaches to Aboriginal peoples: recognition and partnership or conventional delegation
Accountable and transparent: measurable targets, timelines, indicators, reporting obligations to legislature and the public
Slide 8
Conclusions: next steps for BC
All parties endorsing value of a coherent approach to poverty prevention, reduction and alleviation for all families in British Columbia and in Canada
Engaging with community groups, business, labour, municipalities, First Nations, poverty groups
Preparing a draft action plan
Improving adult income from employment
Assisting low-income families with children
Consulting on idea of new legislation
Developing new measures and indicators by BC Stats and other agencies
Thank you for this opportunity
Michael J. Prince
Lansdowne Professor of Social Policy
Faculty of Human and Social Development
University of Victoria
mprince@uvic.ca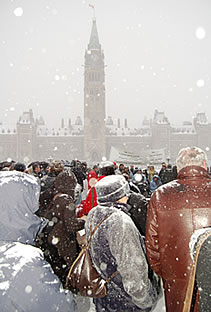 End Exclusion supporters rally in support of an accessible and inclusive Canada.