Act Now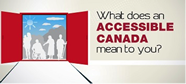 Empower U: Learn to Access Your Disability Rights Training on Canadian Human Rights, the Convention on the Rights of Persons with Disabilities (CRPD) and its Optional Protocol (OP) training aims to increase awareness of how to address discrimination using more familiar Canadian human rights laws such as Human Rights Codes and the newer international Convention on the Rights of Persons with Disabilities (CRPD). This is training for persons with disabilities by persons with disabilities. The training is part of a project funded by Employment and Social Development Canada and implemented by the Council of Canadians with Disabilities (CCD) in collaboration with Canadian Multicultural Disability Centre Inc. (CMDCI), Citizens With Disabilities – Ontario (CWDO), Manitoba League of Persons with Disabilities (MLPD) and National Educational Association of Disabled Students (NEADS). Read more.
Sign Up for our monthly digest
A monthly newsletter from CCD about what is happening in the community
New deal for disabled
Professor says dignity of pension could replace welfare for thousands
By Katherine Dedyna, Times Colonist November 19, 2009 7:06 AM

Michael J. Prince is a TAB: A temporarily able-bodied person. But without warning, accident or illness could push the University of Victoria professor into the ranks of more than two million Canadians with serious disabilities.
The glaring difference would be that most of the people the Lansdowne Professor of Social Policy writes about in his new book, Absent Citizens, have few or none of the income and health supports he could rely on to continue to live in dignity as an active citizen.
Prince's salary is paid from the public purse. And he argues that people with the most severe disabilities that prevent them from working should also receive a basic income funded by the federal government -- not as pathetic dependents, but in recognition of the extraordinary costs and barriers they face.
The government provides stigma-free old age security cheques for Canadians over age 65, he notes. "We could do the same for people with disabilities and it would be a much smaller number." He suggests it would cover the estimated 400,000 people who are on welfare rolls across Canada due to severe disabilities.
Can Canada afford that? "Absolutely," he says. "One way I explain it is that when the GST went to five per cent from six per cent, we gave up collecting $6 billion to $8 billion a year. If we'd left it at six, you could have a pretty decent national disability income."
Others say it is not a priority for most Canadians and the country cannot justify such a program at a time of budget deficits.
The Caledon Institute of Social Policy in Ottawa is working on a proposal like Prince's. It would replace provincial welfare benefits for persons with severe disabilities with a new income program modelled on the Guaranteed Income Supplement, says president Ken Battle.
Provinces would see a sizable reduction in social assistance rolls but would have to agree to reinvest the savings in supports and services for persons with disabilities.
Preliminary cost estimates to the federal government from Caledon's two proposed income programs would be about $6 billion -- $1.3 billion to make the nonrefundable disability tax credit into a refundable benefit (low-income disabled people currently get nothing) and another $4.8 billion for the basic income program.
Caledon's work was commissioned by the Canadian Association of Community Living and the Council of Canadians with Disabilities and is supported by Prince, who is co-principal researcher with the council and in his sixth year on the board of the B.C. Association of Community Living.
The B.C. Coalition of People with Disabilities says a guaranteed income sounds good in principle. However, major concerns about eligibility, implementation and payment amounts would have to be addressed, says executive director Jane Dyson. "We do need to be discussing these things and this is a positive move forward."
A national program would have to address regional variations, such as the high cost of housing in B.C. cities versus small-town Saskatchewan, adds Robin Loxton, the council's program director of advocacy access.
"With a system for the whole of Canada, if you don't get it right, it could be a huge issue," Dyson adds. Can Canada afford to offer more to its citizens with disabilities?
"Any country can afford to do what it wants to do," says economist Jonathan Kesselman, the Canada Research Chair in Public Finance at Simon Fraser University. There is no question that people with serious disabilities deserve a better shake, he says, but it's not a top priority of Canadians, in his opinion.
While health care gets top billing in Canadian minds, Kesselman surmises that's because most of us think we'll need it one of these days. But we don't really think we'll end up disabled and impoverished. As to the cost,"Six billion dollars is a large amount of money," Kesselman says. "The federal budget is in massive deficit. It's not a clear-cut thing whether the funds are available just because they could have kept the tax rates up higher."
Instead of a basic guaranteed income, Kesselman would rather see a top-up to provincial plans by the federal government. A top-up program would take a couple of years of negotiation with the provinces, and cost "substantially less than the Caledon proposal," he says.
The federal government is not studying "any specific proposal of basic income for people with severe disabilities," says an email from Human Resources and Skills Development Canada to the Times Colonist. "However, income support options for people with disabilities, including basic income, are part of an ongoing discussion at HRSDC."
Meanwhile, the attitude of Canadians holds up progress for disabled citizens, says Prince, a veteran of 20 years in the disability field, both professionally and personally. Canadians admire people with disabilities for coping but think paying for the supports they need to function is primarily up to them or their families.
Just 44 per cent are employed and of those, 27 per cent have low incomes compared with 14 per cent of other Canadians, while federal employment equity legislation is in a holding pattern.
One of the five goals rolled out by the B.C. government in 2005 envisioned "the best system of support in Canada for persons with disabilities." But Prince says that "in a lot of areas [such as] equipment, aids and devices, supports at home, we rank either eighth or ninth at the bottom of the 10 provinces."
Both Prince and the B.C. Coalition of People with Disabilities are waiting for Canada to ratify the UN Convention on the Rights of Persons with Disabilities that it signed in 2007.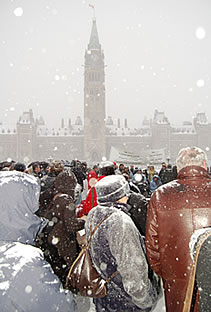 End Exclusion supporters rally in support of an accessible and inclusive Canada.